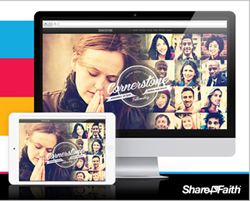 Sharefaith Websites now offer optional updates that are actively responsive with enhanced single-page Parallax scrolling effect.
Medford, OR (PRWEB) April 24, 2014
Today, Sharefaith is releasing its highly anticipated Church Websites version four, which introduces a radically new look and a powerhouse of fresh features. In keeping with latest design trends, Websites now offer optional updates that are actively responsive with enhanced Parallax scrolling effect. Websites remain entirely customizable even for someone with no technical skills.
Web design best practices and standards are constantly changing. As many as 60% of a church website's visitors may access the site on mobile devices. Sharefaith church websites are fully responsive, meaning that the website automatically adapts to the size and orientation of a visitor's device — mobile phone, tablet, or even screen or window resizing.
Other current developments in web design, featured in the Sharefaith website rollout, are Parallax effects and a single-page layout. When a user scrolls down a page, subtle motion and design features make the website more attractive and user-friendly. Since the majority of content is on a single page, there is no need for clunky navigation menus, back button clicks, or losing one's place in the site architecture. A benefit of these features is that users spend more time on the website, reducing bounce rates and creating engagement.
Although the design and development of the site is mobile-friendly and responsive, the layout is stunning in full screen. Using an immersive design technique is ideal for communicating faith concepts and laying out a church's identity. Making smart use of hero graphics, beautiful typeface, and powerful words, immersive designs help to draw in the visitor with their beauty and appeal. Sites no longer communicate mere information, but help to convey a story.
Each of these new features will help a church differentiate itself from the vast majority of church websites. Anyone from "the tech guy" to the church admin can set up the new site design, adjust backgrounds, change content, and put into play the beauty of the new site design. Regarding cost, what used to be prohibitive design fees are now a thing of the past, as Sharefaith has rolled these new updates into the standard cost of its church websites.
Sharefaith's proprietary Sidekick Editor makes any and all changes to a website easy, intuitive, and in real-time. Using the familiar WordPress platform, Sidekick turns technical development acrobatics into two-click events that anyone can do. Coupled with a built-in library of hundreds of web graphics, churches can customize their site to make it match their unique culture and design preferences.
Sharefaith's Church Websites, along with all its award-winning premium ministry resources are developed by ministry teams for ministry teams. This places the focus right on the church itself. It is uniquely built and created for the church administrator, pastor, webmaster or volunteer. "Sharefaith understands the time, budget and staff constraints of churches and creates ground-breaking resources to aid ministry teams in proclaiming the Gospel with technology, excellence and relevance," says Hein van Wyk, Sharefaith's CEO and President.
Sharefaith's continued leadership in the church website design space means that more and more churches can have more and more tools that they need to proclaim the good news. Sharefaith is convinced that it's not about slick techniques or advanced design. At it's core, churches are commissioned to proclaim a message. Advances in website technology, will help them in this all-important task.
For more information, please visit https://www.sharefaith.com/category/church-websites.html.