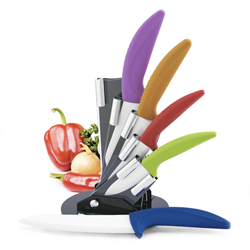 Zirconia is extremely hard, wear resistant and chemically inert. This set features lightweight construction and perfect balance to make it a pleasure to use.
Ottawa, Ontario (PRWEB) April 19, 2014
Cuisine Santé International has been importing its line of products for the last 12 years.
The 5 pieces high quality zirconia set is the latest edition to the Cuisine Santé International line of products.
Product Features:
Made from zirconium oxide, anti-bacteria, anti-fouling, non-toxic and non-corrosive.
Super hard, high-density and sharp blade, not easy to be blunt.
No reaction with any food and can preserve the original color and taste of the food, keep the food's freshness and nutrition.
No stimulation to your eyes when cutting excitant food like onions.
No transferring odors from one food item to another
In the last 30 days since the launch of this set we have sold over 3200 units. It has quickly become one of our best sellers.
We are looking forward to having this set become the leader in the kitchenware industry.
Cuisine Santé International is the main importer and reseller worldwide for this new Zirconia knife set.
Cuisine Sante International
1260 Old Innes Road Suite 601
Ottawa, Ontario, K1B 5L3
Phone: 613-288-9020