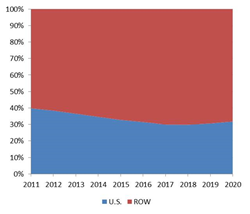 Fast adoption of tomographic coherent X-ray scattering EDS in premium airports is one of main drivers of the tomographic explosives detection market
Washington D.C. (PRWEB) May 01, 2014
According to the Tomographic Explosives Detection Systems – EDS & BHS: Industry, Technologies & Global Market – 2014-2020 report, the growth of the rejuvenated tomographic explosives detection systems industry will be boosted by five main drivers:
1. The expansion of the Asia Pacific aviation security markets
2. The replacement of outdated EDS systems
3. The expansion of new baggage handling systems facilities
4. Fast acceptance of tomographic coherent X-ray scattering EDS in premium security airports
5. Ever growing aftersale revenues
The Tomographic Explosives Detection Systems – EDS & BHS: Industry, Technologies & Global Market – 2014-2020 report analyzes the following EDS markets:

Equipment sales
EDS installation market
Baggage Handling Systems market
The report, granulated into 27 sub-markets, offers for each sub-market 2011-2013 data and 2014-2020 forecasts and analyses. In 470 pages, 125 tables and 169 figures, the report analyzes and projects the 2011-2020 market and technologies from several perspectives, including:
National and regional markets (e.g., U.S., U.K., Germany, France, Saudi Arabia, China, India, Japan, Korea, Brazil)
Competitive environment: leading vendors and their products
Market analysis (e.g., market drivers / inhibitors, SWOT analysis)
Business environment (e.g., competitive analysis)
Current and pipeline technologies
Business opportunities and challenges
Explore more Homeland Security and Public Safety Reports at http://www.homelandsecurityresearch.com/reports/.
About Homeland Security Research Corp.(HSRC)
HSRC is a Washington, D.C. based international market research and strategic consulting firm serving the Homeland Security and Public Safety communities. HSRC provides premium market, present & emerging technologies and industry expertise, enabling our global clients to gain critical insight into the business opportunities that exist within the Homeland Security & Public Safety markets. Government clients include the U.S Congress, DHS, U.S Army, U.S Navy, NATO, U.K, Japan, Korea, Taiwan, Israel, Canada, Germany, Australia, Sweden, Finland, and Singapore; DOD, DOT, GAO, and the EU are among others. HSRC serves over 650 private sector clients, including all major defense and security contractors and many Fortune 500 companies. 70% of our reports are acquired by repeat customers.