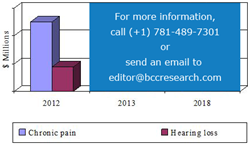 Global Market for Neurostimulation Devices to Grow To Nearly $4.1 Billion in 2018
Wellesley, Mass., (PRWEB) April 18, 2014
BCC Research (http://www.bccresearch.com) reveals in its new report, NEUROSTIMULATION: TECHNOLOGIES AND GLOBAL MARKETS, the global neurostimulation device market is expected to grow to nearly $4.1 Billion by 2018, with a five-year compound annual growth rate (CAGR) of 1.5%. The chronic pain category, the largest segment in the overall market, is projected to reach $2.8 billion in 2018.
Currently drug therapies are the primary treatment option for chronic pain; however, these therapies have proven virtually ineffective over the long term. Consequently, neurostimulation devices are increasingly used for pain management. The chronic pain category is the fastest moving segment of the overall market with a CAGR of 1.8%.
The gastrointestinal category, the second-fastest growing segment is moving at CAGR of $1.5% and is projected to reach $8.5 million by 2018.
"Currently, the market is underdeveloped despite technological advances due to low medical acceptance and equally low consumer awareness," says BCC Research pharma analyst Minal Patel. "Patients still fear the prospect of having a foreign object implanted into their bodies. This is anticipated to change with the commercialization of technologically advanced neurostimulators, physician training, increased venture capital and government funding and considerably due to the expansion of health insurance to the underinsured and uninsured."
NEUROSTIMULATION: TECHNOLOGIES AND GLOBAL MARKETS provides an overview of neurostimulation device market, including products, key players, entry-level players, market trend analysis, and factors influencing future incidence. It also presents market analysis by clinical disorder, including annual incidence, trend analysis and factors influencing future predicted surgical volume. Market share and information on key neurostimulation device manufacturers are also discussed.
This report is intended for anyone interested in better understanding the role of the rapidly growing neurostimulation technologies of the broader neuromodulation markets. Executives, consultants, trade associations, clinicians and marketing professionals in the medical device industry, health insurance industry, and experts in the neuroscience and neurosurgery fields will benefit most from this report.
Editors and reporters who wish to speak with the analyst, should contact Steven Cumming at steven.cumming(at)bccresearch(dot)com.
About BCC Research
BCC Research publishes market research reports that make organizations worldwide more profitable with intelligence that drives smart business decisions. These reports cover today's major industrial and technology sectors, including emerging markets. For more than 40 years we've helped customers identify new market opportunities with accurate and reliable data and insight. These include market sizing, forecasting, industry overviews, and identification of significant trends and key competitors. We partner with analysts who are experts in specific areas of industry and technology. Their up-to-date knowledge gives our customers unbiased measurements and assessments of these vital markets. Because our reports offer a global focus, our customers include the top companies in industries around the world as well as universities, major business schools, start-ups, consulting firms and investment companies. BCC Research is a unit of Eli Research LLC.
Data and analysis extracted from this press release must be accompanied by a statement identifying BCC Research LLC, 49-2 Walnut Park, Wellesley, MA 02481, Telephone: (+1) 781-489-7301; Email: editor(at)bccresearch(dot)com as the source and publisher. Thank you.