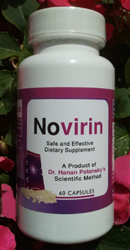 Because of the increase in the shingles rate, we recommend that people talk to their doctors about Novirin, the most effective natural antiviral product on the market. - Mike Evans, polyDNA
Rochester, NY (PRWEB) April 22, 2014
polyDNA has learned that Dr. Craig Hales M.D. wrote that "Herpes zoster (shingles) rates among adults have been slowly rising over time in the United States and other countries. In the United States, herpes zoster rates have increased by 39% from 1992 to 2010 among adults older than 65 years of age (1)." This data comes from a recent CDC study, using Medicare data from 1992 to 2010. As more people become infected with VZV, polyDNA recommends that they talk to the doctor about Novirin, the most effective, natural antiviral on the market. The formula of this natural product was clinically proven to reduce symptoms of viral infections in a study that followed FDA guidelines.
Some scientists believe that the increase in herpes zoster is associated with the widespread vaccination of children against varicella. However, a growing body of evidence shows that this is unlikely. Another theory says "that exposure to varicella disease may boost a person's immunity to VZV and reduce the risk for VZV reactivation as zoster. Some studies have shown reduced risk for zoster in adults who are exposed to varicella, but other studies have not shown this effect (1)."
Regardless of the reason for the increase, Dr. Hales wrote that "we do know that many cases of zoster could be prevented by the zoster vaccine. CDC recommends that adults aged 60 years or older receive 1 dose of zoster vaccine to help prevent the disease and its potentially debilitating complications, including post-herpetic neuralgia (1)."
"Shingles is caused by the varicella zoster virus, the same virus that causes chickenpox. After a person recovers from chickenpox, the virus stays in the body in a dormant (inactive) (latent) state. For reasons that are not fully known, the virus can reactivate years later, causing shingles." (See the CDC's website last updated on January 10, 2011) (2).
"Because of the increase in the shingles rate, we recommend that people talk to their doctors about Novirin, the most effective natural antiviral product on the market." - Mike Evans, polyDNA
Novirin shares the same formula as Gene-Eden-VIR. The difference between the two is that Novirin has higher quality, more expensive ingredients. The Novirin/Gene-Eden-VIR formula was tested in two post-marketing clinical studies published in September 2013 and March 2014, respectively, in the peer reviewed medical journal Pharmacy & Pharmacology. However, Novirin contains higher quality, more expensive ingredients. These ingredients were selected to fight latent viruses even more effectively than Gene-Eden-VIR.
Interested individuals can view the two published studies here, http://cbcd.net/Gene-Eden-VIR-Clinical-Study.php and http://cbcd.net/Gene-Eden-VIR-Decreases-Fatigue-Clinical-Study.php.
In a post marketing clinical study published on August 12, 2013 in the medical journal Pharmacology & Pharmacy in a special edition on Advances in Antiviral Drugs, researchers showed that the product that delivered the Novirin/Gene-Eden-VIR formula is safe and effective (3).
Additionally, up to 70% of those studied reported a decrease in symptoms associated with a latent viral infection, and users of the Novirin/Gene-Eden-VIR formula experienced an increase in overall health (3).
Each ingredient of Novirin was chosen through a scientific approach. Scientists scanned thousands of scientific and medical papers published in various medical and scientific journals around the world to identify the highest quality, safest, most effective natural ingredients that target latent viruses.
A second clinical study showed that the Novirin/Gene-Eden-VIR formula decreased physical and mental fatigue. (See Pharmacology & Pharmacy, from March, 2014) (4).
Individuals can learn more about Novirin at http://www.novirin.com. All orders of Novirin are completely confidential, and no information is shared or sold to any third party. Privacy is assured.
References:
(1) Herpes Zoster Rates Are Increasing, but Why? Published on April 14, 2014.
http://www.medscape.com/viewarticle/822982
(2) CDC - Shingles (Herpes Zoster). Last Updated January 10, 2011.
http://www.cdc.gov/shingles/about/overview.html
(3) Gene-Eden-VIR Is Antiviral: Results of a Post Marketing Clinical Study. Published in September 2013.
http://www.scirp.org/journal/PaperInformation.aspx?PaperID=36101#.U056hVWSz90
(4) Eden-VIR Decreased Physical and Mental Fatigue in a Post Marketing Clinical Study That Followed FDA Guidelines; Results Support Microcompetition Theory. Published in March 2014.
http://www.scirp.org/journal/PaperInformation.aspx?PaperID=44234#.U056t1WSz90
polyDNA is a biotechnology company that develops dietary supplements using the unique scientific method developed by Dr. Hanan Polansky, which is based on Computer Intuition.
In addition to his unique scientific method, Dr. Polansky published the highly acclaimed scientific discovery, called Microcompetition with Foreign DNA. The discovery explains how foreign DNA fragments, and specifically, DNA of latent viruses, cause most major diseases.
polyDNA developed Novirin, an antiviral natural remedy that helps the immune system kill latent viruses.