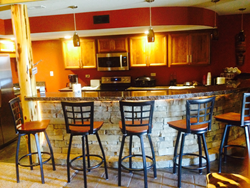 Clay Center, KS (PRWEB) April 17, 2014
Restaurant furniture manufacturer and distributor, Affordable Seating, has recently helped NCK Outfitters in Clay Center, Kansas update their bar's décor with new bar stools.
NCK Outfitters is a premier outfitter and hunting guide located in north central Kansas. They have a very large hunting operation in Kansas. NCK Outfitters guides hunters from all around the United States for deer, Turkey and Pheasants. NCK has 25 years of professional hunting service. They also offer corporate hunts and also provide hunting dogs.
NCK Outfitters provides lodging for guests. The lodge is a 2,700 square foot home with 3 bathrooms, satellite television, antique Brunswick billiard table, lots of beds, 2 heated garages to dry their guest's boots, and a heated shop to clean the game. The lodge sleeps up to 15 guests. Amenities include pool table, poker table, massage table, sauna and full kitchen. They can offer a local locker plant to process and ship guest's meat. The lodge has trophy animals from all over the world displayed. The meals include the Wilde game that they harvest while hunting in the great state of Kansas.
In the summer months they host meetings and retreats with 12' digital screen power points and guests can enjoy watching college football games.
The owners of NCK Outfitters, Brian Blackwood turned to Affordable Seating for new seating for the lodge. He turned to Affordable Seating because of its reputation for durable attractive furniture at low prices. Being a premier outfitter it was also important to him to have high quality, premier seating. "The bar stools look great next to the new granite bar top with real stone face," remarked Brian. Affordable Seating has established itself as a leader in the restaurant furniture business because its commitment to high quality. Many of its products are made in the U.S.A.
Brian bought Metal Window Back Swivel Bar Stools in black frame finish with solid wood mahogany seats. The Metal Window Back Bar Stools sell for $58. The commercial metal bar stool comes with a standard black sandblast frame finish. The frame is available in 5 different finishes. Customers have the choice of a solid wood seat or an American made padded seat made of fabric or vinyl. The wood seat is available in 6 different finishes and for an upholstered seat there are many options to choose from. A matching Window Back Metal Chair is also available and sells for $31.
"The Metal Window Back Swivel Bar Stools are popular for customers in all kinds of venues," commented David M. salesperson for Affordable Seating. "The strong metal frame provides long lasting support and durability and the window back design is complements the aesthetics of any décor."
To view Affordable Seating's full selection of restaurant chairs, bar stools, booths, tables and patio furniture visit http://www.affordableseating.net or call a customer service representative at (888) 495-8884.
NCK Outfitters is located at 1624 Meadow Lane in Clay Center, KS. They can be contacted at: (785) 452-5220. For more information you can also visit their website at: http://www.nckhunt.com.