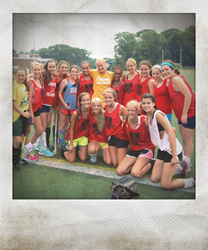 "This camp was designed to address a growing need in the selection process for both top student-athletes and coaches at top academic schools." - Keri Hostetler, Revolution National Director
Fairfield, CT (PRWEB) April 17, 2014
Revolution Field Hockey, the national leader in field hockey education and events, has announced the first annual Top of the Class Camp. The event is designed for high-achieving student-athletes who wish to play collegiate field hockey at top academic schools. NCAA coaches from the Ivy League, NESCAC and other top conferences will be in attendance.
The camp will combine top-notch field hockey instruction along with the opportunity for players to showcase their skills and academic record for the coaches who are most likely to be interested in recruiting them. The instructional curriculum was developed by Team USA members. Campers will learn more about the recruitment process, meet coaches and listen to guest speakers from college admissions offices. The college coaches will share their insight on the recruiting calendar and what type of player is an academic and athletic fit for their school. Parents are invited to attend the recruiting seminars during the camp.
Noteworthy colleges with coaches on the staff will include Brown, Columbia, Williams, Wesleyan Middlebury, and Tufts, among others. "This is a great format for the players", said Williams College Head Coach Alix Barrale. "Players can get exposure to the coaches whose schools fit their academic profile and they can really learn about the recruiting process."
Campers will train on campus at Choate Rosemary Hall, one of the leading prep schools in the country. Two turf fields will be utilized for play.
The Top of The Class Camp is open to players graduating high school in 2015, 2016, 2017 & 2018. Enrollment is limited in order to ensure each participant receives maximum exposure to coaches and other speakers such as college guidance counselors. Parent participation is also encouraged to get the most out of this exclusive opportunity.
Interested prospective campers can learn more about the Top of the Class Camp at http://www.FHcamps.com.
Revolution Field Hockey Camps are a division of eCamps, Inc. eCamps is a nationally recognized provider of summer sports camps. Other camps include the adidas Tennis Camps, GameBreaker Lacrosse Camps, US Rugby Camps, Fusion Swim Camps, Revolution Softball Camps and the International Squash Academy.