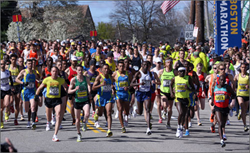 "It changes the whole dynamic so if an incident does happen, everyone has the same awareness of what's going on".
Atlanta, GA (PRWEB) April 19, 2014
City officials and the Boston police are finalizing their plans to beef up security efforts at the 2014 Boston Marathon by placing more than an additional 100 security cameras funded by the Massachusetts' Police according to csmonitor.com. This year real time images will be fed into a network of eight command centers. Along with surveillance camera footage, the feeds will also include footage from other cameras from the Massachusetts Bay Transportation Authority, which include 435 cameras that will provide monitoring of the majority of bus trips and station footage to be scrutinized by authorities. Randy Clarke, senior director of security and emergency management at the MBTA explains, "It changes the whole dynamic so if an incident does happen, everyone has the same awareness of what's going on".
Most of the security cameras have been mounted on high poles that are difficult to spot by passer-byers along the 26.2 mile route through eight cities and towns that will end in front of the Boston Public Library in Copley Square. Microphone sensing technology will also be used to pinpoint the exact location of loud noises or gunfire. This year the number of runners is expected to rise to 36,000 and the number of spectators is estimated to reach 1 million, doubling the number of spectators in 2013.
Police and state agencies will be also provide live footage from public cameras that will be integrated into a single system, which would allow multiple agencies to monitor crowds simultaneously.
Security cameras played a key role in identifying the Tsarnaev brothers who planted two homemade bombs at the 2013 Boston Marathon event that killed three people and injured 260 others by reviewing the video footage on the finish line. Surveillance cameras provide authorities the ability to view suspicious behavior with a bird's eye view. Bullet Cameras are one of the most popular cameras used for surveillance because they are essentially a plug and play unit that can be quickly programmed for immediate use. They also provide additional options including weather resistant materials for outdoor use, infrared, which allows viewing in low light or poorly lit areas and vari-focal lens that allow wide angle, up close or distant viewing. The flexible design and weather resistant housing makes the bullet camera an ideal combative in the fight against terrorism. PTZ Cameras also top the list as one of the most flexible cameras due to their ability to pan, tilt and zoom in on a situation. They are commonly used in large areas where camera movement is essential for extension coverage. The image quality of a PTZ Camera provides a high resolution image to be used in a court of law.
Additional preventative measures include prohibition of backpacks and handbags carried by participants, containers with more than 1 liter of liquid and clothing that covers the face. Large flags and blankets have also been added to the list of items that will be denied entry at the event. Police presence will be doubled, with 3,500 moving within the crowd aided by bomb-sniffing dogs.