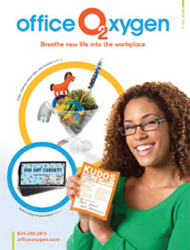 The first month after we dropped our first catalog, sales more than doubled.
Natick, MA (PRWEB) May 09, 2014
Office Oxygen, a spinoff of Trainers Warehouse, just launched its first printed mail catalog with the goal of breathing new life into the workplace. Susan Doctoroff Landay, president of Office Oxygen and Trainers Warehouse, explains, "Trainers and teachers are now well-attuned to the positive impact of active, interactive, and stress-free learning on memory and retention. The same brain research findings apply to the workplace. The more positive and active we can make our offices, the more productive we'll be.
"Furthermore, Millennial employees are demanding that their workplace be healthy and fun; they want their supervisor and co-workers to respect their work; they want to feel valued and engaged."
Although Office Oxygen launched as a web-only retailer, experience told them that catalogs still help in building awareness of the company and driving people to the web to make purchases. For a company that values face-to-face interactions, and delivers tools that build communication and relationships, it makes sense. "People still enjoy flipping through a catalog and gabbing around the water cooler," Landay asserts.
Viewing the new brand as a start-up, Landay waited 11 months after the launch of the Office Oxygen website to put out the first printed piece, so that should could gather data about customers and their product preferences. Only then did she produce a short run of a 48-page catalog, selling everything from stress toys to stand-up desks, office ping-pong to meeting buzzers, time management tools to "Good job, pass it along" tokens… and nothing you would find in a traditional office supplies store. From their first catalog drop, albeit a small one, they saw sales more than double.
This is obviously good news for the Office Oxygen team. It's also good news for the business community – products which create a positive and enjoyable workplace can help decrease stress, absenteeism and turnover; and increases loyalty, productivity, energy and profitability.
For an immediate infusion of oxygen and to breathe new life into your workplace, visit: http://www.officeoxygen.com or call 800-296-2812.
About Office Oxygen:
For more than 20 years Office Oxygen's sister company, Trainers Warehouse, has been selling innovative products that energize learning. In 2013, the company decided it was time to share these great resources with others in the business community, with the goal of making WORK more innovative, effective and fun! With that mission, the company launched officially as Office Oxygen, offering a selection of products to breathe fresh air into the workplace.