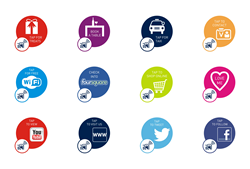 (PRWEB UK) 23 April 2014
Signbox has launched a new range of smart stickers that can deliver information to any consumer with an NFC enabled smart phone, providing exciting opportunities for proximity marketing as well as enabling any business to engage with its customers even when it is closed.
Simply by tapping the smart phone close to the smart sticker, information can be read or an action triggered. This provides proximity marketing opportunities as varied as downloading a discount voucher, reading a restaurant menu or calling a cab.
Smart stickers are small self-adhesive roundels about the size of a beer mat that incorporate the pre-programmed message. Manufactured from durable polyester film, they can be printed with any graphic, image or message before being applied to the inside face of glass or other suitable material. The smart sticker is then ready to be read by an NFC enabled smart phone with a simple, fast tap on the glass.
NFC smart sticker technology is 'opt in' allowing consumers to choose which products to engage with and providing them with more control and privacy than location based services such as BLE (Bluetooth low energy). As consumers become more and more immune to the plethora of marketing messages they see all around, Signbox believes that the power of 'opt in' marketing and its popularity can only increase.
Smart stickers can be read by a smart phone through glass or acrylic, so any business can be accessible 24 hours a day allowing customers to engage with them when most convenient. Reading the menu, booking a table and then calling a cab can all be done when the restaurant is closed simply with the use of a smart phone and smart stickers located in the restaurant window or even from the other side of town from a promotional smart poster.
Signbox smart stickers come in a range of standard colours and designs or can be designed to meet specific requirements.