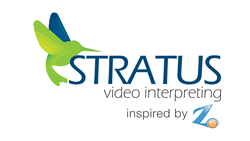 Language barriers should never hinder doctor-patient interaction—successful communication in every language is possible with the right technology and capable interpreters.
Clearwater, FL (PRWEB) April 21, 2014
In a country in which over twenty-one million people possess a limited ability to read, write, speak or understand English (1), language barriers in U.S. healthcare are quickly becoming a cause for concern. Not only are they associated with repeat visits to the emergency room, but the potential for fatal consequences has been evidenced in several medical malpractice lawsuits. Video Remote Interpreting(VRI) company Stratus Video Interpreting says that while the malpractice claims signal what is becoming an overwhelming issue for American healthcare, eliminating language barriers can be difficult for healthcare facilities which often lack the resources to provide quality interpretation services for Limited English Proficiency (LEP) patients, whom nearly 100 percent of hospitals see daily (2). As a company dedicated to eliminating language barriers throughout the U.S., Stratus offers an advanced system that connects healthcare facilities with a cloud-based network of certified spoken language interpreters with the ability to translate over 175 different spoken and sign languages.
A study conducted by the University of California, Berkeley School of Public Health and the National Health Law Program analyzed medical malpractice claims of a carrier that insures in four states to identify when language barriers may have resulted in harm to the patient:
● In 35 claims—2.5 percent of the carrier's total claims reviewed—the carrier paid $2,289,000 in damages or settlements and $2,793,800 in legal fees.
● In one case, a young child was used as an interpreter before suffering respiratory arrest. In another, the deceased child's 16-year-old sibling was used as the interpreter.
● In 32 cases, the healthcare providers did not have competent interpreters available. In 12 cases, family members or friends were used as interpreters, including minor children in two cases (3).
While federal law requires all healthcare facilities that receive federal funding to offer language services to patients who need them, many facilities struggle to properly connect patients with language services—fewer than half of patients who need an interpreter say they usually get such assistance (4). According to Stratus CEO Sean Belanger, language barriers in healthcare should be addressed on a national scale—widespread standardization would not only increase awareness of the language support services offered in healthcare, but also limit the chances of malpractice suits by ensuring proper and effective communication, per Belanger.
"Language barriers should never hinder doctor-patient interaction—successful communication in every language is possible with the right technology and capable interpreters," said Belanger. "The limited resources in most hospitals are recognizable and that's why it's even more urgent to make the available interpreting services widely-known – the technology is there to make patients safer and reduce medical errors, while also protecting the financial liabilities of healthcare facilities."
Stratus' interpreting service is an application that can be loaded onto any PC, Mac, smartphone or tablet; the technology can even be applied to Polycom and Cisco systems. Through a virtual private network, an encrypted call is placed to one of Stratus' 33 video call centers across the U.S., and the next available interpreter in that language is found and connected.
Stratus specializes in medical and court interpreting, but the company's technology is applicable to every industry. Stratus employs experienced, highly-qualified interpreters who can either be used to supplement an existing interpreting infrastructure or to replace live and over-the-phone interpreters altogether.
For more information about Stratus and its services, visit http://www.stratusvideo.com.
About Stratus Video Interpreting:
Stratus Video Interpreting provides on-demand interpreter services by using technology to connect clients with interpreters in over 175 spoken and signed languages in less than 30 seconds. Stratus' cloud-based video solution delivers an array of unique features to virtually any Internet-enabled PC, Mac, smartphone or tablet. Stratus clients use the technology to connect with their own staff interpreters, as well as with Stratus interpreters, who have years of healthcare and courtroom experience and hold multiple certifications. With Stratus, state-of-the-art video remote interpreting is made available with virtually no capital investment. Stratus averages 65,000 video calls a day, up from 40,000 in mid-2013. Stratus Video is the sister company of The Z® (CSDVRS, LLC, dba ZVRS), which was established in 2006 and developed by and for deaf and hard of hearing individuals, setting the industry standard as the nation's premier Video Relay Service Provider and the first VRS Provider to receive a 5-Year certification from the FCC. For more information, visit http://www.stratusvideo.com.
1. "Do You Understand? Reach out to Patients With Limited English Proficiency." Acep.org. N.p., n.d. Web. 18 Mar. 2014. acep.org/content.aspx?id=21624.
2. Orlovsky, Christina. "Language Barriers on the Rise in American Hospitals." Nursezone.com. N.p., n.d. Web. 18 Mar. 2014. nursezone.com/nursing-news-events/more-news/Language-Barriers-on-the-Rise-in-American-Hospitals_27682.aspx.
3. "The High Costs of Language Barriers in Medical Malpractice." Healthlaw.org. National Health Law Program, n.d. Web. 20 Mar. 2014. healthlaw.org/component/jsfsubmit/showAttachment?tmpl=raw&id=00Pd0000006EH0qEAG.
4. Quinton, Sophie. "Speaking the Language of Health Care." Nationaljournal.com. N.p., 19 Mar. 2014. Web. 27 Mar. 2014. nationaljournal.com/next-america/health/speaking-the-language-of-health-care-20140319.