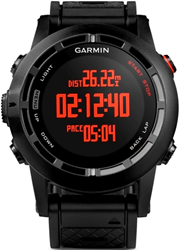 I've been testing one for a month and they are awesome..
Bozeman, MT (PRWEB) April 19, 2014
fenix 2 has been a very popular GPS watch this year, so popular in fact that their Performer bundles have run out for the Heart Rate Watch Company as of April 16th.
"We'll have them back in stock, in or around, May 9th but this GPS watch has been so popular I'd recommend getting orders in now for early May delivery," says Rusty Squire, President of the Heart Rate Watch Company. He adds, "I've been testing one for a month and they are awesome; we ordered lots of them but they are just that popular."
Why fenix 2 Is So Popular
"The fenix 2 struck a real chord in the multisport marketplace and, while it is not a pure triathlon watch, it does many sports well with a much more intuitive menu navigation," says Squire. He adds, "It leads the pack in navigation features, offers Bluetooth Smart and has the most advanced running features available."
"The expandable spare band kit comes with it so you can fit the watch right over a ski jacket, wetsuit or any other situation where external visibility is helpful," says Squire. He adds, "The quality of maps, ability to remote control the Garmin VIRB Elite camera and durable construction just add to that appeal."
Navigational Genius
Garmin fenix 2 comes loaded with all the great navigation features that made the original Garmin fenix so popular like on screen trackback and up to 1,000 way points. "You can even upload software like Garmin Street Maps for street maps in foreign cities as some of our military users have pointed out," says Squire.
Connected Features
"With an iPhone 4S or later you can actually receive text messages on the watch screen to decide if anything important requires your attention," says Squire.
Back In Stock Soon
"We had a couple fenix 2's left but the Garmin fenix 2 Performer Bundle with the new Garmin HRM-Run strap and all of its advanced features for recovery, training and bio-mechanics running," says Squire. He adds, "I'd get your orders in now because this watch is going to be hot all Spring, I've tested it for a month and the results are awesome."
Talk To The Experts
"If you'd like to talk to a real expert regarding the Garmin fenix 2 than simply call us toll-free at 866-586-7129," says Squire. He adds, "We think you'll appreciate talking to folks that actually test and use the products they sell."