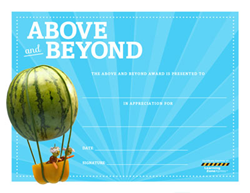 Owatonna, MN (PRWEB) May 01, 2014
The week of May 5-9, 2014 is a week of great celebration. It's School Nutrition Employee Week and Teacher Appreciation Week. These downloadable certificates were such a hit last year, Learning ZoneXpress decided to offer updated ones for 2014! They are easy to print and award to deserving individuals in your school and community.
For School Nutrition Employee Week, recognize directors, managers, staff, parents – anyone that is a champion for school nutrition. Let this week serve as a reminder for all the work they do in our schools by showing them a little love.
During Teacher Appreciation Week, award educators that have a positive influence in your life, your child's life, and throughout your school. Let's express our gratitude for those individuals teaching tomorrow's leaders.
Bookmark this page and use these fun and free certificates all year long.
Learning ZoneXpress, based in Owatonna, MN, is a leading source of award-winning nutrition education resources. Its mission is to improve the health and vitality of people by providing relevant, creative and affordable teaching tools about healthy behaviors and nutrition. Learning ZoneXpress offers a wide variety of educational products including posters, handouts, videos, games and lesson plans. For more information about Learning ZoneXpress, visit http://www.learningzonexpress.com or call Toni Meyer at 888-455-7003.