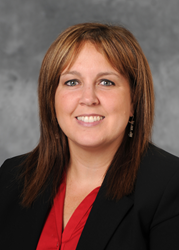 Detroit, Michigan (PRWEB) April 17, 2014
Health Alliance Plan (HAP) today announced that Dawn Geisert has joined the company as Chief Compliance Officer.
In this newly created role, Geisert and her team will implement a coordinated regulatory compliance program, oversee regulatory submissions and reporting activities, assess compliance risk and develop training programs to address compliance. A robust compliance program ensures that the company upholds its core values of service excellence and integrity while adhering to state and federal requirements. Geisert will also interface with the Audit and Compliance Committee of the HAP board of directors.
"Dawn is a visionary leader with extensive experience administering corporate compliance programs," said James Connelly, HAP President and CEO. "Medicare and Medicaid will continue to grow, and HAP is fully committed to meeting the expectations of commercial and government payers while ensuring a positive experience for our members with complete regulatory compliance."
Prior to being appointed Chief Compliance Officer, she served in the Office of the General Counsel at Blue Cross Blue Shield of Michigan, where she was Principal Counsel leading the government programs practice group legal team.
Geisert holds a Juris Doctorate from Michigan State University College of Law, a Master of Science in general administration from Central Michigan University and a Bachelor of Arts in psychology from the University of Michigan. She is also an alumnus of the Michigan Chamber Foundation's Leadership Michigan program.
A lifelong Michigan resident, she, her husband and two children reside in Troy.
###
About Health Alliance Plan
Health Alliance Plan (HAP) is a Michigan-based, nonprofit health plan that provides health coverage to more than 670,000 members and companies of all sizes. For more than 50 years, HAP has partnered with leading doctors and hospitals, employers and community organizations to enhance the health and well-being of the lives we touch. HAP offers a product portfolio with six distinct product lines: Group Insured Commercial, Individual, Medicare, Medicaid, Self-Funded and Network Leasing. HAP excels in delivering award-winning preventive services, disease management and wellness programs, and personalized customer service. The National Committee for Quality Assurance awarded HAP's commercial HMO and HAP Senior Plus Excellent Accreditation.