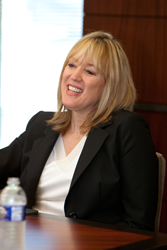 Philadelphia, PA (PRWEB) April 18, 2014
Woods' President and CEO, Diana L. Ramsay, MPP, OTR, FAOTA, was recently awarded the Emerging Conservation Leader Award by the Philadelphia Zoo. This award recognizes individuals on a path toward leadership in conservation.
In addition to her duties at Woods, Ramsay serves as a member of the Zoo's Conservation and Education Mission Subcommittee and as Chair of the Governance Committee for the National Aquarium in Baltimore, MD. Through her work with the Zoo, she became familiar with the Zoo's UNLESS Project for sustainable palm oil and her creative spirit emerged. While Woods individuals are typically the recipients of assistance, Ramsay envisioned them becoming champions for others in need—the orangutans whose habitat is being destroyed by the clearing of rain forests to make way for palm oil plantations. She presented her idea to the management team at Woods, who embraced the idea. Before long, Woods' clients created presentations and made a storybook detailing how deforestation affects orangutans. Additionally, Woods as a whole has taken the use of sustainable palm oil into consideration when making purchases.
Ramsay plans to present this model to CEOs of other organizations, so that more individuals can feel the same empowerment as Woods residents do. A short video, featuring several Woods residents, can be viewed at http://youtu.be/nZM0CDKl1f4. The clients featured played a pivotal role in this initiative.
Ramsay received her Bachelor of Science degree in Occupational Therapy from Towson University and was the John J. Sexton Fellow in Social Policy at the University of Maryland where she earned a Master of Public Policy degree. A recent participant in Leadership Philadelphia and member of the Forum for Executive Women, she resides in Philadelphia, PA.
Woods provides educational, residential, health care, clinical and vocational supports and services to more than 1,100 people of all ages and levels of care with a unique model that drives greater achievement for individuals – and best practices for the industry. Philadelphia schoolteacher Mollie Woods founded Woods in 1913 as a progressive residential school for children diagnosed with intellectual disabilities. Woods is comprised of several affiliate organizations including Allies, Inc., Archway Programs, Brian's House and Woods Services located in Langhorne and Chester County in Pennsylvania, and throughout New Jersey. For more information, visit Woods' website at http://www.woods.org.
###