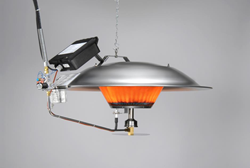 Myerstown, PA (PRWEB) April 19, 2014
Farmer Boy Ag is pleased to announce Space Ray has improved their already popular Radiant Brooder to now provide increased corrosion resistance, simple gas conversion flexibility and all with less assembly time. A trusted name in the poultry heating industry is taking big steps to make their product even better.
Space-Ray has improved its popular radiant gas brooder, Model SRB40 to provide increased corrosion resistance. Important changes include a new stainless steel burner (previously cast iron), stainless steel brackets, stainless steel gas lines and a new dual fuel gas regulator which enables the gas valve on the brooder to operate using either natural gas or propane gas. The new dual fuel gas valve is only available on direct spark ignition (DSI) models. This new feature eliminates the need for users to undergo the costly retrofit expense of changing the gas valve when switching from propane to natural gas or vice-versa. They only need to unscrew and flip the regulator and change the orifice to make the switch between propane and natural gas.
The new SRB40CR series brooder is built to resist corrosion from humidity and ammonia, while providing lower maintenance, greater reliability and improved durability. The new stainless steel burner is designed to withstand the harsh, demanding conditions found in today's poultry houses, and can also be disassembled for cleaning. The updated SRB40CR brooder also incorporates a new plastic box that houses the ignition control designed to protect the spark module and electrical connections from both moisture and dust.
The outlined features include:

Increased Fuel Savings
Quicker Assembly and Easy Maintenance
Broad Heat Pattern
Utilize Radiant Heat Pattern
Farmer Boy AG, Inc. has been at the forefront of the livestock and poultry industry, constructing facilities for these industries as well as providing a complete line of parts and supplies to keep those facilities running for years to come. Regardless of market conditions, Farmer Boy Ag strives to give customers "The Best Value in Ag Supplies!" For more information on the improved brooder, contact the Farmer Boy AG Sales Department at (800) 845-3374.