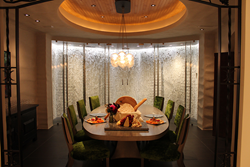 The accolades simply help to show that all the extra attention and effort was more than worth it...
Dallas/Ft. Worth (PRWEB) April 18, 2014
Futurian Systems, an integration firm specializing in turnkey residential technology solutions packaged with the most innovative and reliable hardware/software currently offered, today announced their expanded media presence in 2014.
The Consumer Electronics Association (CEA) recognized this year's Mark of Excellence finalists and award winners during the annual International CES 2014, held in Las Vegas in January. The best technology installation projects were honored in 11 categories, and Futurian Systems was named a finalist for both the "Specialty Project of the Year" and the "Ultimate Home of the Year (above $300K)." Both nominations stemmed from a modern home construction in Ft. Worth, for which Futurian Systems had been contracted to provide extensive security solutions. The project quickly evolved to also include audio, video, phone, data, and control system integration as well.
After working with an outside electrician and lighting designer, and installing nearly 15 miles of wire plus six unique equipment racks, the team at Futurian Systems felt immensely proud to have delivered a system that so thoroughly reflected the vision of the client. A media room delivering 6,000 watts of power with some of the finest equipment in the industry, the private home theater with the ultimate audio and video technology, customized mirrored televisions, robust security and camera systems, absolutely amazing lighting control, a climate-controlled wine room and more, made submitting the finished project for award consideration and easy decision.
Not long after being named a finalist for two different CEA Mark of Excellence awards, the immense project began to garner industry attention, with a back page feature in the March CEPro "Cream of the Crop" edition, as well as a showcase in CEA's blog Digital Dialogue.
"Everything about the project was so unique, we just couldn't resist," said Jeremy Beck, President of Futurian Systems. "The accolades simply help to show that all the extra attention and effort was more than worth it, as well as prove that Futurian was the right choice from the very beginning."
Maintaining the momentum established with the "Modern Marvel" article and elsewhere, Futurian Systems will also soon announce the completed integration of the Vail Board of Realtors Training Center, as well as their achieving "Pinnacle" status as a licensed Control4 dealer. Additional company news and awards can be found on their website.
About Futurian Systems
Futurian Systems was founded on the premise that home and business technologies are becoming increasingly more complex every day. Decades of management experience has equipped Futurian with a powerful base of consumer knowledge and a nationally award-winning team to engineer, administrate, install, program and maintain thoroughly integrated residential and commercial technology systems. Futurian's has been headquartered in Southlake, TX since the company was founded in 2003, servicing the entire Dallas/Ft. Worth area, along with a base of operations in Vail, Colorado, and a mobile workshop and crew that travels practically anywhere to prepare clients for future technology.