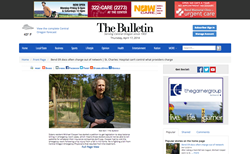 One patient received a bill from a physician whom he had never seen after being a patient in the emergency room.
Salem, VA (PRWEB) April 23, 2014
The Bulletin in Bend, Oregon published an article on April 12th, 2014 featuring Pat Palmer of Medical Recovery Services entitled Bend ER Docs Often Charge out of Network, written by Tara Bannow.
The article tells the stories of several former patients of the local hospital in Bend – part of the St. Charles Health System of hospitals. One patient received a bill from a physician whom he had never seen after being a patient in the emergency room.
He had been treated by a nurse practitioner at the facility because he thought he might have dislocated his hip after he suffered a fall. However, he received a bill from a doctor who did not treat him.
Because the hospital contracts with Central Oregon Emergency Physicians, St. Charles Bend patients often receive two bills: one from the hospital and one from Central Oregon Emergency Physicians. According to the article, the physicians used at Central Oregon often do not accept the same insurance as St. Charles Bend hospital.
A second patient received a bill for the balance of what his health insurance did not pay, a practice called "balance billing." He was unaware that he was being billed from a contracted entity that might deny insurance that the hospital would accept. While numerous facilities do this, some Bend residents refuse to pay the remainder.
One Bend resident is quoted in the article as leaving unpaid the remaining $49 which his insurance provider did not pay. He says that he is fighting this bill to draw people's attention to an important issue. In his opinion, St Charles Bend's emergency providers should accept in-network payments as payment in full.
In the article, Palmer states that hospitals can put any conditions they want in a contract with a provider. However, she also states that any contracted workers should accept the same insurers as the hospital. "They should not be signing if they don't contract with the same insurance carriers that the hospital does," Palmer said. "That should be the rules."
The full article can be read on the Bend Bulletin's website here: http://www.bendbulletin.com/home/1971512-151/bend-er-docs-often-charge-out-of-network
This article was published April 12, 2014.