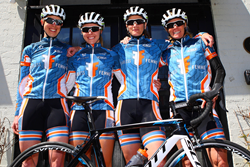 Lambertville, NJ (PRWEB) April 18, 2014
TayganPoint Consulting Group, a leading strategic management consulting firm, is proud to announce their sponsorship of Fearless Femme Racing, a locally-based women's cycling team and a part of Pure Energy Cycling.
While the team is new and consists of fewer than six members, the assembly of racers may be the most experienced and decorated within the women's field, including two current Criterium National Champions. This year Fearless Femme is poised to uphold the success of their inaugural 2013 season, where the squad achieved over 45 podium spots and 16 victories.
TayganPoint embraces Fearless Femme's mission to create enhanced visibility for women's cycling, encourage the growth of female participation in the sport and build stronger local financial sponsorship for the team.
Owned by Joy Taylor and John Cassimatis, both avid cyclists, TayganPoint has always had the principles of health and fitness at its core and proactively encourages its staff and consultants to stay physically active.
"Fearless Femme's philosophy aligns seamlessly with our culture," says Joy Taylor, CEO of TayganPoint Consulting Group, "As a majority women-owned business, we strongly value the opportunity to encourage the growth, advocacy, and equality of women's competitive cycling."
"Our sponsorship of Fearless Femme Racing has allowed us to connect with businesses and other members of the Lambertville community as we join together to support this incredible group of riders," says John Cassimatis, co-owner of TayganPoint. "We couldn't be happier to partner with such an amazing team."
For more information on TayganPoint Consulting Group, please visit: http://www.tayganpoint.com.
To learn more about Fearless Femme Racing, please visit: http://www.fearlessfemmeracing.com.
About TayganPoint
TayganPoint Consulting Group, an Inc. 5000 company, is a strategic management consulting firm that implements strategy and organizational change in life sciences, health care, financial services, and energy organizations to improve their efficiency and overall business performance. Established in 2009, TayganPoint's team of seasoned process experts has a reputation for hands‐on service and deep sector expertise in areas like strategy alignment and execution, process improvement, change management and communication, and program and project management. The company leverages this deep knowledge of its clients' business needs to grow its portfolio, expand into new markets and help clients make strategy happen.