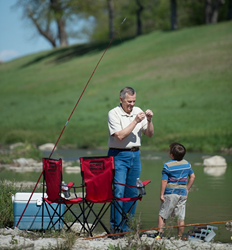 Fort Worth, Texas (PRWEB) April 18, 2014
Acme Brick Company's 2,000 plus associates were resting easy on the company's 123rd birthday this April 17, in their camp chair birthday presents. The red chairs would be easy to find among a crowd even if they didn't sport the Acme logo on the back. The birthday gifts also have an unusual pocket contained in the back support for storage of small items and each chair comes with a carrying bag.
"We always take this occasion of Acme's birthday to remind everyone at Acme about our company's long history and heritage and also to take a moment to reflect on our good fortune all these 123 years," said Dennis Knautz, Acme's President and CEO. "I'm sure that everyone in our Acme family will find lots of uses for their chairs from picnics to sporting events and even, if they're lucky, for waiting on that big fish to bite. This is the sixteenth year that Acme has recognized our company's birthday by giving presents to all our associates, just like any family would do," added Knautz.
Acme, America's largest brick company, was established April 17, 1891 near Weatherford, Texas about 40 miles west of Fort Worth. Acme Brick and its affiliated companies: Featherlite Building Products, Texas Quarries, American Tile and Stone, and the IBP Glass Block Grid System, are owned by Berkshire Hathaway which is headed by famed investor Warren Buffett.
For more information contact: Marketing Dept., Acme Brick Company (817) 792-1234 or visit http://www.brick.com.
For more PRESS information contact: Ron Taylor (8l7) 377-l042, cell (817) 874-8206 or e-mail taylorpr(at)spindle(dot)net.