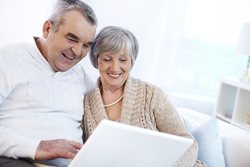 Our patent-protected, advanced algorithms allow users to draw zones of interest within their camera's field of view. Then the camera only records when something happens in that targeted zone.
Ottawa, Ontario (PRWEB) April 17, 2014
Hippity, hoppity...just in time for the holiday, iWatchLife, a leader in the do-it-yourself home monitoring industry, today announced the beginning of its annual Easter Sale. From now until Easter Monday, customers purchasing the company's Starter service will receive $10 off of the regular price.
iWatchLife is a do-it-yourself, cloud-based home monitoring service that allows users to monitor live and recorded video remotely from their computers, tablets, or smartphones. The service records activity happening in zones that users designate, and then notifies them in real time by email with a photo, or key frame, of the event that triggered the recording. Users can then log in to view the recording or live feed from their camera from wherever they are.
"iWatchLife is not like closed circuit TV, which records 24/7," says Charles Black, the company's President and CEO. "The beauty of iWatchLife is that it uses smart technology to record only what matters to you. Our patent-protected, advanced algorithms allow users to draw zones of interest within their camera's field of view. Then the camera only records when something happens in that targeted zone."
According to Mr. Black, the technology brings with it a whole range of advantages over similar services that record continuously. "It records fewer, more meaningful events, so it minimizes false alerts. It also means the service won't slow down your internet because it isn't recording all the time. You can still watch Netflix while the kids play online games, even if you have multiple cameras."
"Home monitoring is a concept that encompasses more than just home security," says Maureen. Campbell, Director of Marketing and Communications for iWatchLife. "You use it to be 'virtually home.' When you're at work, you can see the moment your kids get home from school. You can check in to see if your dog is on the couch again. When you're away on vacation, you can see who comes up to your front door. You can check in on an elderly parent living alone. You can see when the contractors arrive and track the progress of your home renovation."
The company's Easter sale dovetails with their family-friendly image. "Easter is a family time," says Ms. Campbell. "At iWatchLife, we're all about family and bringing families together." The company offers two premium services at surprisingly affordable price points. The Starter service, which comes with 75 hours of scheduled recording and 15 days of video retention, normally costs $59 per year. The Essential service plan will get you 200 hours of scheduled recording and 30 days of video retention for $99 per year.
As Easter approaches, Ms. Campbell wants to make customers aware of the many holiday-oriented applications of the wireless service. "Normally, you don't use the service to record continuously, but you always have that option. Both of our service plans provide plenty of storage space for manual or scheduled recording. You can also use it for remote viewing of live video."
She gives the example of the traditional Easter egg hunt. "Families with young kids often plan a little egg hunt and film it. Suppose the grandparents live across the country and are dying to see their grandchild toddle around with a basket—with iWatchLife, they can log in and see and hear the whole thing live while the family is recording it. Afterwards, if they want, the family can save the video to their computer's hard drive and upload it to Facebook, YouTube, or our iShareLife page for sharing."
Tom Leger, the company's VP of Business Development, says that iWatchLife would make a great Easter gift for the family. "Kids love it," he maintains. "They love seeing themselves on camera, and they catch on to technology even faster than adults."
The four-day holiday finds many extended families coming together for Easter dinner. "That's another great use for iWatchLife," says Mr. Leger. "Hosts of the dinner often miss a lot of the fun while serving. With iWatchLife, you can record the whole dinner so you don't miss a thing."
The Easter deal is an added bonus at a time of year when DIY and renovation fever kicks in, and summer vacations are around the corner. Customers use their service to keep an eye on renovations and contractors when they can't be at home, as well as to watch over empty vacation properties, and their own homes when they're away on holiday.
The sale is on until April 21. Customers who join using the promo code 'HopAlong10' will receive the discount. "But they'd better hurry," says Ms. Campbell with a smile, 'it's only here 'til Easter."
About iWatchLife
iWatchLife is a do-it-yourself, video monitoring system that lets the user remotely watch over all aspects of life—home, vacation property, family, contractors, even pets—from any computer, tablet or handheld device. Our unique, cloud-based, smart technology understands context, importance and relevance of images and sounds and notifies the user anytime, anywhere when events that have been specified as being important are detected. See, monitor and share what matters from anywhere. iWatchLife brings internet cloud-based video monitoring technology to the consumer market, making it affordable and easy to use. Our service uses advanced video analytics and artificial intelligence to provide unparalleled functionality for our users.