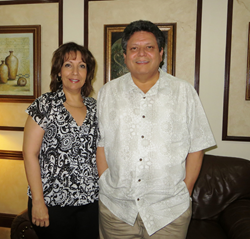 "To feel happy about helping people, day by day".
Pembroke Pines, FL (PRWEB) April 21, 2014
Ruben Albarracin, Office Manager of Liliana Gonzalez DDS PA & Associates Family Cosmetic & Restorative Dentistry, joined other leading dentists and their executive staff from across America. They gathered at MGE: Management Experts in Florida on March 26, 2014 to analyze and take active action against one of the sources of economic destruction, which affect not only their practices, but also the local community and the nation.
The four day closed-door conference examined the issues dentists were finding in each of their cities across the nation.
"We all reported that finding qualified staff was becoming much more difficult than in years past. One would think that with high unemployment levels, one could find employees. However, the ability to read and write (AKA literacy) is sorely lacking and a common denominator in many applicants," said Mr. Albarracin.
According to a study conducted in late April 2013 by the Department of Education and the National Institute of Literacy, 32 million adults in the U.S. can't read. That's 14% of the population. 21% of adults in the U.S. read below a 5th grade level and 19% of high school graduates can't read. The current literacy rate isn't any better than it was 10 years ago. Economic security, access to health care, and the ability to actively participate in civic life all depend on an individual's ability to read (Source Huffington Post - http://www.huffingtonpost.com/2013/09/06/illiteracy-rate_n_3880355.html).
According to the Department of Justice, "The link between academic failure, delinquency, violence, and crime is welded to reading failure." The statistics back up this claim. 85% of all juveniles who interface with the juvenile court system are functionally illiterate, and over 70% of inmates in America's prisons cannot read above a fourth grade level, according to BeginToRead.com.
"That one harmful element is illiteracy. Interestingly enough this one destructive element is closely connected to poverty," said Larry Kaplan, DDS, Literacy Project Chairman.
According to the National Center for Children in Poverty (NCCP), there are more than 72 million children under age 18 years in the United States. 45% percent (or 32.3 million) live in low-income families, and 22 percent (or 16.1 million) live in poor families. This translates into 1 out of 5 young people living in poverty which can impede children's ability to learn.
"We can't just sit back and do nothing. We all need to take responsibility for our communities. These shockingly bad conditions are all related to one common denominator, illiteracy. And something workable must be done about it," said Dr. Kaplan.
"We are banding together to attack illiteracy head-on by raising not only the awareness of it, but also money for needed books and audio books. Our group has decided to raise funds to obtain tens of thousands of books and audio books proven to help children read, and then to get them directly into the hands of the children in need via vital social betterment groups such as the Boys and Girl's Club of America and other Youth Groups promoting and supporting literacy. In the March meeting we pledged an initial $50,000 for books and are determined to raise $500,000 at a benefit dinner being held end of May," said Dr. Kaplan. "This will start to break the cycle of illiteracy that is destroying our young people and our nation."
MGE Management Experts, Inc., located in St. Petersburg, FL, offers business and marketing training to the owners of dental practices. The training is based on the administrative technology of L. Ron Hubbard that is used in more than 100,000 companies and organizations across the globe to their benefit and prosperity.
Liliana Gonzalez, DDS, founded Liliana Gonzalez DDS PA & Associates, Family Cosmetic & Restorative Dentistry January 2006. Located in Pembroke Pines, FL the practice offers dental excellence for the entire family by bringing only the best and latest in dental techniques provided by professionally trained, caring and courteous staff. For more information, please visit http://lgonzalezdds.com or call 954-432-4800.