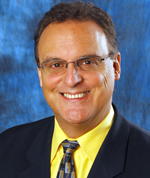 George has a thirty-year track record of leadership and innovation in energy and sustainability, with hands-on experience in management, finance, sales and marketing, operations, and engineering.
Pleasantville, NY (PRWEB) April 18, 2014
PACENow, a non-profit advocate for PACE (Property Assessed Clean Energy) financing is pleased to welcome George Caraghiaur, former Senior VP, Sustainability at Simon Property Group as a Senior Fellow. Mr. Caraghiaur will lead PACENow's commercial real estate industry outreach and engagement initiatives to help foster the adoption of innovative PACE financing mechanisms. "Our goal is to encourage real estate companies, ESCOs, and other key players to explore the many benefits of using PACE financing to reduce energy use now, rather than delaying sound financial and environmental decisions," says Mr. Caraghiaur.
PACE market leaders are applauding this appointment. David Gabrielson, PACENow's Executive Director, comments, "George has a thirty-year track record of leadership and innovation in energy and sustainability, with hands-on experience in management, finance, sales and marketing, operations, and engineering. Everyone in the PACE community is excited that George will be focusing his experience & expertise on PACE."
Since half of the energy we consume in the U.S. is used to heat, cool, light, and operate buildings, making them more energy efficient makes them more valuable and makes our nation more energy secure, creates jobs, and reduces carbon emissions. President Clinton helped launch PACE at the Clinton Global Initiative in 2009 and PACE has now been approved in more than 30 states, and in major cities including Los Angeles, San Francisco, Cincinnati, St. Louis, and Washington DC.
Jeff Tannenbaum, PACENow's founder, adds, "We are so fortunate to have George and the extensive first hand experience he brings to so many types of energy efficiency projects. He was a real leader at Simon, a company that has already used PACE. The PACE market is at a pivotal point in its development and George will be an indispensible asset to help move it forward."
Mr. Caraghiaur is the founder of Energy & Sustainability Services LLC, providing energy efficiency and financing management consulting services to real estate companies, ESCOs and energy contractors. He is also the author of "A Guide to Energy Service Companies", published by The Fairmont Press. Until recently, he was the Senior Vice President, Sustainability for Simon Property Group, an S&P 100 company and a global leader in the retail real estate industry, where he was responsible for developing and implementing the company's sustainability strategy, including energy efficiency, waste recycling, renewable energy, tenant engagement, sustainable construction, and transparent reporting. He previously was Senior Vice President, Energy & Procurement, and responsible for managing the procurement of the company's energy, waste handling, and supply chain services, as well as the Net Operating Income from the delivery of energy and operation services, including electricity, water & sewer, gas, chilled media, waste handling, and parking.
Mr. Caraghiaur has been instrumental in the industry-wide recognition of Simon's sustainability practices, which resulted in back-to-back Leader in the Light Awards for eight consecutive years from the National Association of Real Estate Investment Trusts (NAREIT) and the repeated inclusion of Simon as the only real estate company in the CDP's Global 500 Carbon Disclosure Leadership Index for greenhouse gas reporting.
Prior to joining Simon, George was a consultant to Energy Service Providers and Utility Companies, and worked in the US, Canada, Europe and Asia on energy deregulation issues. Previously, he was President of FPL Energy Services, Inc., a provider of energy performance contracting services to Fortune 500 companies. He also perfected the use of performance contracting and project financing for seawater desalinization in the Caribbean, and was a senior executive with a leading building control systems and co-generation firm in Canada.
George holds a Master of Science from Penn State University, and a Bachelor of Engineering from École Polytechnique de Montréal. George is fluent in English, French, Romanian, and Spanish and he has a strong working knowledge of Italian and Portuguese.
About PACENow and PACE market:
PACENow is a non-profit foundation funded advocate for Property Assessed Clean Energy (PACE) financing. PACENow's mission is to promote improved energy efficiency in buildings and use of PACE.
PACENow is supporting and contributing to the efforts of the many groups and organizations that are making PACE an efficient and effective tool for implementing energy efficiency and renewable energy upgrades to buildings.
Energy efficiency retrofits represent a spectacular investment opportunity. A $279 billion investment in commercial, residential, and institutional segments could save $1 trillion over a decade, according to the Rockefeller Foundation study. Moreover, the ACEEE's estimates show that energy efficiency improvements tend to result in the average return on investment of 22 percent. PACE financing is a robust and flexible tool that can be used to make our nation's buildings more energy efficient.