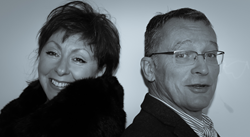 The Talk To Phil & Dave Show is making people sit up and listen
(PRWEB UK) 22 April 2014
THE hosts of Scotland's premier community radio chat show will broadcast a live exclusive interview with the Chief Executive Officer of The Big Issue Foundation next Tuesday (April 29).
Phyllis Joyce and David Boyes, co-presenters of the Talk To Phil & Dave Show on Pulse 98.4, will discuss some of the UK's most pressing social issues with Stephen Robertson, who has been at the helm of TBI Foundation for seven years and who has a key insight into the lives of some of society's most disadvantaged people.
The Big Issue Foundation, which is the charitable organisation behind the weekly current affairs magazine sold on the streets by homeless and long-term unemployed people, links the vendors – who sometimes face almost unimaginable crises –with vital support and services.
The Big Issue magazine, which has a circulation of 100,000 copies, gives vendors the opportunity to take control of their lives by earning a legitimate income. They buy their magazines with their own money, taking charge of their finances and sales while developing the skills required to retail to the public. The aim is to steer vendors away from homelessness and back into mainstream society.
Stephen has been CEO at the Big Issue Foundation – which promotes the empowering principle of "a hand up not a hand-out" – since July 2007. His previous role was Director of Commercial Operations at another homeless charity, Shelter.
Phyllis said: "Stephen's understanding of the problems being faced by some of the most excluded people in the United Kingdom and elsewhere is almost unmatched. It's going to be a fascinating interview – and one which everyone with a social conscience should not miss.
"We are delighted to have attracted someone of the Stephen's stature, which proves that the Talk To Phil & Dave Show is making people sit up and listen. Our mix of conversation, agony aunt advice, live counselling, music and other original features is like nothing else on radio right now, and we are committed to pushing an agenda for the listener."
David added: "Stephen is a big-hitter in the charitable sector and he has plenty to say about issues that maybe some of us would rather either forget or prefer not to confront. Twenty-three years ago, The Big Issue first hit the streets of the United Kingdom. It's still here, still relevant and still developing – and making the headlines, either within its own covers or by grabbing the attention of more mainstream media outlets as a result of its challenging journalism."
The interview will air during the first hour of the two-hour show, which goes out live every Tuesday at 2pm (BST) and which addresses serious issues affecting the lives of ordinary people in an unchallenging, down-to-earth setting while at the same time delivering a light-hearted entertainment package.
Hosted by body-centred therapist and counsellor Phyllis Joyce and journalist and media consultant David Boyes, the Talk To Phil & Dave Show first hit the airwaves in November 2013, with the aim of turning the spotlight every week on new topics of interest to listeners.
Since then, the programme has addressed a host of issues – including debt-management, diet, mental health, drug and alcohol misuse, post-traumatic stress, domestic violence, suicide and anxiety – either by responding to messages sent in by listeners or by way of live interviews with people who have been able to provide an insight into the subject at hand.
The interviewees are either experts in their fields or they are individuals who have first-hand knowledge of confronting some of life's obstacles and, as a result, have valuable experiences to share. The subjects that have been covered in the live interviews have included post-traumatic stress disorder, smoking cessation and mental and physical wellbeing.
These on-air discussions are recorded and edited into podcasts before being uploaded to the TalkToPhilNow website, which acts as a gateway to the show and which offers important information to people in need of help as well as providing links to official support organisations. The podcasts add a personal, durable and unique dimension to the catalogue of help available.
The website also gives the Talk To Phil & Dave show – which engages with listeners through text messages, Tweets and Facebook posts – the ability to guarantee the anonymity of those who would prefer to opt for privacy when reaching out for assistance. They are directed to use a dedicated email address or are referred to a page on the site, where they can sign up through a registration form. Only the details of the issue at hand will be broadcast – not the individual's name or other personal information.
Pulse, which transmits on the 98.4 FM frequency, is a community radio station based in Barrhead, near Glasgow, UK, broadcasting to all of South Glasgow, the city centre, East Renfrewshire, Paisley, Renfrewshire and Clydebank and online.
Two things set Pulse aside from other community radio stations – it is professional in its approach and it has no set music policy, allowing it to give exposure to a wide range of styles and artists.
Pulse 98.4 is also available online at tunein, which lets listeners around the world access 70,000 live global radio stations, with music, sports, news, talk, and comedy streaming from every continent. It also has more than two million on-demand programmes, from podcasts to concerts to interviews.
The tunein app is compatible with all smartphones and tablets and on more than 200 platforms such as Sonos and Logitech.
You can follow and link to Phyllis Joyce on Twitter, Facebook and at http://www.talktophilnow.com