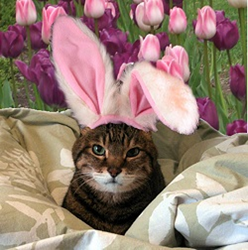 PetFirst warns pet owners of the top three pet toxins during the Easter Holiday.
Jeffersonville, IN (PRWEB) April 17, 2014
Easter holiday celebrations are officially underway with egg hunts, candy baskets and tons of chocolate. But pet parents need to keep a watchful eye on their pets, especially around these traditional holiday treats and decorations. PetFirst warns pet owners of the top three pet toxins during the Easter Holiday.
#1 – Easter Lilies are beautiful flowers, but the plant has great potential to poison your pet. If consumed by your dog or cat, the Lily can be lethal. If left untreated, pets can suffer from kidney failure resulting in death. Keep all plants, especially Lilies, out of your pet's reach. If your pet does eat any of the leaves, petals or pollen, contact your veterinarian or the Animal Poison Control Center at 888-426-4435. Timely treatment is critical.
#2 – Chocolate is a toxin for your pet, especially for dogs. Consuming chocolate, dark chocolate in particular, can lead to chocolate toxicity. Theobromine, a component of chocolate, and caffeine are the major components making chocolate toxic for pets causing central nervous system stimulation, cardiovascular stimulation, increase blood pressure, nausea and vomiting. If you discover your pet has eaten chocolate, try to assess how much and when, then have the information ready to report to your veterinarian or the Animal Poison Control Center. Depending on your dogs' weight and the amount eaten, it may be best to monitor your dog from home. It's better to be safe, than sorry, so contact the veterinarian for specific instructions in caring for your pet.
#3 – Decorations such as baskets, plastic eggs, and Easter grass are a hazard to your pet. Young dogs (and some older ones too) will try to chew on baskets and plastic eggs, quickly making those items a choking hazard. Easter grass tends to attract cats similar to tensile during Christmas. Cats will chew on and try to eat the Easter grass which then becomes blocked in their intestine, creating a foreign body ingestion. For some cats, the best treatment is surgery to remove the foreign object. As always, contact your veterinarian immediately if you suspect your pet has consumed something that may harm them.
These are just a few of the potential hazards found around most homes this holiday season. Always be aware of your pet and their habits and watch for potential hazards year-round.
Pet owners with pet insurance from PetFirst have the satisfaction of knowing their veterinarian bills can be reimbursed up to 90% should an accident or injury arise any time of year. Pet insurance with PetFirst is convenient for pet owners and can be activated online or by phone. To receive a customized quote for pet insurance, visit http://www.petfirst.com or call 877-894-7387.
About PetFirst
PetFirst is the fastest growing pet insurer in North America offering easy-to-understand lifelong coverage for dogs and cats. PetFirst's comprehensive coverage is unique in the industry providing simplified policies with coverage for hereditary, chronic and breed-specific conditions with no per diagnosis limits. PetFirst offers pet insurance in all 50 states and the District of Columbia through animal welfare agencies, retailers, employers as well as other partners. PetFirst polices are underwritten by American Alternative Insurance Corporation (Munich Re) which is rated by A.M. Best as A+. Additional services are underwritten by Lloyd's. For more information about PetFirst pet insurance, visit http://www.petfirst.com or call 877-894-7387.