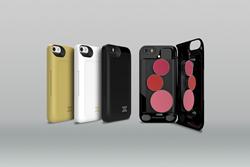 Drop your favorite makeup pans inside...and you've got a handy cosmetics kit.
Toronto, ON (PRWEB) April 24, 2014
Modern women finally have an iPhone case designed just for them. "The Mia" from case maker Mocamomo is designed to securely, conveniently and compactly hold a woman's personal make-up essentials.
It has a hinged cover with a lightweight mirror finish on the inside while a custom mini applicator brush snaps securely to the bottom tray. Users simply drop their favorite make-up pans inside, which are held securely in-place by a micro-suction secure grip surface, and The Mia becomes a stylish cosmetics kit – perfect for those 'just-in-case' moments when a quick refresh or touch-up is required.
And what about those 'make-up free' days? The Mia also perfectly fits standard sized ID, credit and ATM cards. So if heading out and traveling lightly is the goal, outfit The Mia with a credit card or two, some cash, and a key, and leave your purse or bag behind.
The Mia is available for pre-order until June 7, 2014 at a special price of $29.99 USD.
About Mocamomo
Mocamomo is a designer and producer of mobile protective cases based in Hong Kong and Toronto. Mocamomo works with leading brands, artists, designers and organizations to bring creative and unique mobile protective cases to the marketplace.