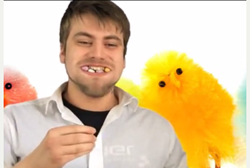 Surrey (PRWEB UK) 18 April 2014
SEODesk, the south of England search engine optimisation experts, have celebrated the Easter holidays by undergoing a rather unique and silly task at their company headquarters. Of course, playing the fool and having some fun is so much better when it is shared with the world and the firm has filmed two of their team members undertaking a mouth-watering and tasty Easter task. This clip is available on YouTube and on the website of local press site, Dorking and Leatherhead Advertiser.
Given the fact that the firm regularly pulls in long shifts ensuring their clients receive the best level of support and assistance when it comes to ranking high on search engines, the team often needs a sugar rush to keep on working. There is no shortage of chocolate and sweet treats at this time of the year, and with the Easter weekend looming, the team decided that it was the perfect occasion for a work based challenge.
SEODesk employees, Josh and Paul, squared off in the Chubby Bunnies battle where both contestants attempted to hold as many mini chocolate eggs in their mouth at one time. A further twist was added by the fact "chubby bunnies" had to be said to validate the counting process. The firm is keen to point out that viewers should not try this trick at home, but they are also pleased to say that no employees were harmed in the production of this video.
The video showcases the growing importance of video content with respect to search engine optimisation, and it also highlights that SEODesk is a company that can be relied on for fun and serious moments. There are many different ways to be an online smash hit and draw traffic and attention to a site, and with SEODesk at the helm, businesses can be confident that their SEO is in safe hands.
Located on the High Street in Dorking, SEODesk is the search engine expert who is more than happy to apply a personal and local touch to the services that they offer. Although the firm has clients all across the UK and beyond, they are in tune with the Dorking and Surrey community. Any firm who is keen to rank for relevant keywords and to reach out to the local community will find that working with a local SEO expert makes perfect sense. As seen in the video clip, SEODesk may not always follow the most conventional of routes to success, but they can boast of a successful pedigree and track record.
About SEODesk:
SEODesk is the leading search engine optimisation site with an excellent track record for placing firms on the first page of Google for relevant search terms. The firm has worked with clients all across the UK, and they are more than happy to offer a bespoke service which provides clients with everything they need to rank strongly for all relevant keyword terms and searches.