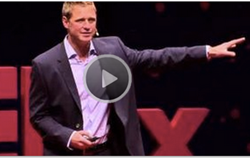 Irvine, CA (PRWEB) April 18, 2014
Sperry Van Ness International Corporation (SVNIC), a commercial real estate services franchisor, is proud to share the video of a TEDx Talk delivered by its President and CEO, Kevin Maggiacomo on the topic of achieving the American Dream. Maggiacomo was recently a speaker at the TEDx Orange Coast Event in the Segerstrom Center.
"Kevin's ability to translate ideas into action is what sets the Sperry Van Ness® organization apart from the competition," says Diane K. Danielson, the company's Chief Operating Officer. "We were thrilled when he was invited to participate in TEDx Orange Coast because it gave him an opportunity to reach an audience outside of our industry with a message he feels strongly about: diversity + inclusion = improved business outcomes for all."
"For years, my company operated with a board comprised almost exclusively of white male baby boomers. Same for my executive team," says Maggiacomo, "And to say that groupthink was in play – where the group would strive for harmony as opposed to challenging assumptions, each other, etc.– would have been an understatement. In hindsight, it's evident to me that this was, in part, the product of static team configuration and a lack of diversity and gender balance."
Since taking the helm at the commercial real estate franchisor, Maggiacomo has instituted a leadership team that is 60% female, and with one additional appointment, will have a board of directors consisting of two- thirds women. Further, in February, Maggiacomo championed a gender balance cause, 50/50 by 2020 which is designed to encourage gender balance across organizations worldwide. The Sperry Van Ness® community continues to support industry organizations like CREW (Commercial Real Estate Women) Network, and Project REAP (an industry leading diversity program), and will increase its category investments and participation in similar organizations in 2014.
In furtherance of Maggiacomo's TEDx Talk, the SVNIC is working to build "American Dream Teams" within the Sperry Van Ness® organization, in order to become the first national commercial real estate firm to reflect the diversity of its tenants and owners that make up America. By making the American Dream– either through employment or franchise ownership–accessible to all Americans, regardless of gender or color, Maggiacomo hopes to reach out to the qualified two-thirds of professionals who are underrepresented in our industry and achieve a balance of diverse talent that will be 50/50 by 2020.
TEDx was created in the spirit of its original conference concept–TED (Technology, Entertainment and Design). Incepted in 1984, TED's mission is to bring together influential speakers who have "Ideas Worth Spreading." TEDx local events are independently organized, non-profits sharing the intention of annual TED events– "…bringing fascinating do-ers and thinkers together to present ideas in 18 minutes or less." TEDx Orange Coast hosted a like-minded community of curious, highly engaged learners committed to inspiring change through positive actions. The theme for the TEDx event was "Beautiful Minds."
To view the video and learn more about Sperry Van Ness® opportunities, visit svn.com.
About Sperry Van Ness International Corporation
Sperry Van Ness International Corporation, a commercial real estate services franchisor, is the 8th most recognized commercial real estate brokerage in the U.S., according to the annual Lipsey Survey. The Sperry Van Ness® organization includes more than 180 locations in 200 markets. With headquarters in Irvine, CA, SVN Advisors provide brokerage, tenant representation, consultation, asset management, property management, leasing, accelerated marketing and auction services. SVN advisors represent clients in office, multifamily, retail, industrial, self-storage, hospitality, marina and land transactions. All SVN offices are independently owned and operated. For more information, go to svn.com.
Contact:
Maggie Flaherty
Director of Marketing at Sperry Van Ness
maggie.flaherty(at)svn(dot)com