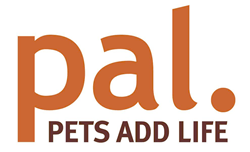 Greenwich, CT (PRWEB) April 18, 2014
Pets Add Life (PAL), a campaign celebrating the joys and benefits of responsible pet ownership, is thrilled to announce it has been honored for Best Online Film & Video in the 18th Annual Webby Awards for its latest videos within the "Talking Animals" series. Hailed as the "Internet's highest honor" by The New York Times, The Webby Awards, presented by the International Academy of Digital Arts and Sciences (IADAS), is the leading international award honoring excellence on the Internet.
"We are honored to receive this prestigious recognition," said Bob Vetere, President & CEO of the American Pet Products Association (APPA). "The ultimate goal of our videos is to promote multiple pet ownership and we are beyond thrilled to see what a huge success they have become. Stay tuned as more are underway!"
This year's Webby Awards received over 12,000 entries from more than 60 countries. Out of all the entries, fewer than 15 percent received this honor and were deemed an Official Honoree. The IADAS, which nominates and selects The Webby Award Winners, is comprised of web industry experts, including media mogul Arianna Huffington, Skype CEO Tony Bates, Mozilla CEO and Chair Mitchell Baker, Instagram co-founder Kevin Systrom, mobile-phone inventor Martin Cooper, and creator of the Jif, Steve Wilhite.
"Honorees like Pets Add Life are setting the standard for innovation and creativity on the Internet," said David-Michel Davies, Executive Director of The Webby Awards. "It is an incredible achievement to be selected among the best from the 12,000 entries we received this year."
Founded by the American Pet Products Association (APPA), PAL is a nonprofit campaign dedicated to sharing information about how pet ownership benefits animals and people alike. PAL's mission is to increase awareness of the bonds and other rewards associated with pets of all types. Primarily through social media with YouTube Videos, an active Facebook campaign, celebrity endorsements and contests, PAL spreads the joys of pets, encourages pet adoption and promotes responsible pet ownership.
To view PAL's award-winning videos, visit http://www.youtube.com/petsaddlife.
For more information on the PAL campaign, visit PetsAddLife.org or contact Brooke Gersich at 775-322-4022 or Brooke(at)theimpetusagency(dot)com.
The American Pet Products Association (APPA) is the leading not-for-profit trade association serving the interests of the pet products industry since 1958. APPA membership includes more than 1,000 pet product manufacturers, their representatives, importers and livestock suppliers representing both large corporations and growing business enterprises. APPA's mission is to promote, develop and advance pet ownership and the pet product industry and to provide the services necessary to help its members prosper. Visit http://www.americanpetproducts.org for more information.