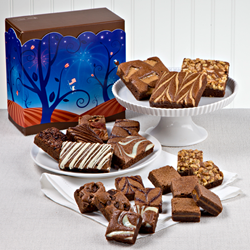 We are proud to bake locally and ship our most popular classic gift boxes that are produced in the United States. - Eileen Spitalny, co-founder
Phoenix, Arizona (PRWEB) April 21, 2014
While Americans display their patriotism through service, song, and ceremony, Fairytale Brownies displays patriotism with its gourmet product. For more than 21 years, the mail order company has produced and packaged fudge brownies baked by United States workers in an Arizona bakery.
"We are proud to bake locally and ship our most popular classic gift boxes that are produced in the United States," said Eileen Spitalny, Fairytale Brownies co-founder.
Fairytale's fudge brownies, chewy cookies and buttery blondie bars are baked with the finest ingredients – US grade AA farm fresh eggs and real creamery butter. Each treat is individually wrapped in high grade film to preserve freshness, and then hand packed in a custom designed gift box.
The Classic and Enchanted gift boxes are made in the United States. The Classic box has a chocolate brown exterior with a purple and white-starred folding flap closure and matte silver-lined interior. The Enchanted box is a sturdy set-up design with a white base and purple lid lined with white magical stars.
Both box types can be wrapped with special occasion gift bands, also printed in the U.S. Fairytale Brownies sells gifts bands for practically every occasion – Happy Birthday, Patriotic, Get Well, Good Luck, With Sympathy, Welcome Baby, Congratulations, Thank You, Thinking of You, Home Sweet Home, and more.
Although Fairytale Brownies bakes and packages in the US, the company ships worldwide.
FAIRYTALE BROWNIES: The company has been baking brownies since 1992. Every batch is made by hand using a secret family recipe. The brownies, cookies and bars are all natural, baked with the finest ingredients such as dark chocolate, farm fresh eggs, pure creamery butter, and dark brown sugar. Each brownie, cookie and bar is individually wrapped and certified kosher dairy.
(You Tube video: 12News NBC affiliate broadcast on 4/15/14)