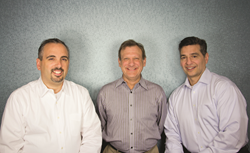 "Their vast knowledge and experience in the industry, coupled with their passion to create solutions for better patient outcomes, is the perfect formula for a successful 25th year and more." - Roy Broadfoot, Founder & CEO
Clark, NJ (PRWEB) May 15, 2014
HealthEd announced the hiring of 3 new leaders: Joe Poggi as managing director, Anthony Marucci as senior vice president of client development, and Todd Greenwood, PhD, MPH, as vice president of strategy and innovation. At the forefront of patient engagement for 25 years, HealthEd creates innovative educational solutions to help patients, industry organizations, and communities navigate healthcare.
As managing director, Joe Poggi will lead all facets of client partnerships with the HealthEd client engagement team. With more than 20 years of agency knowledge and experience spanning a number of therapeutic categories, Poggi brings a well-rounded background to the table. Poggi joins HealthEd from prior leadership roles at McCann Health and Omnicom global agency networks, where he collaborated closely with clients and cross-functional teams in a variety of capacities from prelaunch preparation to multiple-country launches to optimizing commercial success. Poggi earned his bachelor's degree in marketing and economics from The Wharton School of the University of Pennsylvania.
As senior vice president of client development, Anthony Marucci will oversee all aspects of HealthEd's marketing and new-business activities—partnering with the client engagement team to spearhead the company's growth and new business opportunities. Marucci joins HealthEd from Prime Access, the largest multicultural healthcare advertising agency, where he led business development and public affairs. Marucci earned his master of business from Fairleigh Dickinson University and a bachelor's degree in political science and economics from Mississippi State University.
As vice president of strategy and innovation, Todd Greenwood will play an active role in shaping HealthEd's science and leadership in patient engagement. A seasoned marketing strategist, Greenwood has an extensive background in building and delivering value-based solutions for many high-profile healthcare consumer, DTC, and patient marketing programs. Greenwood joins HealthEd from both research organizations and top-tier medical marketing agencies—where his work has resulted in wellness and disease-management programs supporting brand objectives that drive better patient outcomes. Todd holds a doctorate in instructional systems technology from Indiana University and a master of public health in health communications and health behavior from the University of Michigan.
"We are more than excited to add these unmatched talents to the HealthEd team," said Roy Broadfoot, CEO and founder of HealthEd. "Their vast knowledge and experience in the industry, coupled with their passion to create solutions for better patient outcomes, is the perfect formula for a successful 25th year and more."
About HealthEd
Headquartered in New Jersey, HealthEd has for 25 years been a strategic consulting and educational program development partner for biopharmaceutical manufacturers, patient advocacy organizations, and major medical centers. We are committed to a healthier world by providing action-oriented solutions for clients in elevating knowledge, dialogue, and understanding for patients and their health. We do this by understanding people's health concerns deeply, and we solve their problems through health education, creating positive business results for clients by improving outcomes. HealthEd also supports healthcare professional learning through its SurroundHealth online community.