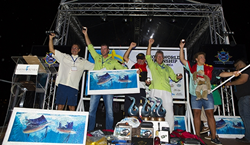 Manuel Antonio, Costa Rica (PRWEB) April 23, 2014
The 15th Annual Offshore World Championship (OWC) was held for the second time at Marina Pez Vela in Costa Rica from April 6-11, 2014, proving again that Costa Rica is one of the world's top destinations for sports fishing with a grand total of 2,735 billfish releases in a four day period.
Sixty-seven teams from 24 different countries competed in the Offshore World Championship this year. The winning team from Angola earned first place with 76 sailfish releases and two dorado for a grand total of 15,263.6 points. The second place team from Brazil scored a total of 13,400 points with 67 sailfish releases. Third place went to a team of American anglers from North Carolina who scored 13,258.2 points with 66 sailfish releases and two dorado.
The annual tournament brings together skilled fisherman from all over the world to beautiful Costa Rica, as well as the members of the local Manuel Antonio community who work together to host the international event. Many of the area's restaurants, hotels and transportation companies play a part in making the experience the success that it has proven to be.
"These guys work hard out there. At the end of a long day, they want a comfortable, luxurious place to head back to that allows them to enjoy the best of what Costa Rica has to offer," says Dave Houck, spokesperson for Tulemar, the area's #1 ranked resort on TripAdvisor. "We are already looking forward to next year's event and the return of fishermen and guests from all over the world. The event is one that we are proud to have come to the area."
The Offshore World Championship is presented by the Costa Rican Tourist Board (ICT) and Marina Pez Vela in Quepos, Costa Rica. For more information on the 2014 Qualifying Event tournaments for the 2015 Offshore World Championship, visit http://www.offshoreworldchampionship.com/events.
About Tulemar Resort
Tulemar Resort is a small resort situated overlooking the Pacific Ocean in Manuel Antonio, Costa Rica. A wide range of accommodations of different sizes and costs are offered to travelers, from rustic one bedroom bungalows to large luxury villas.