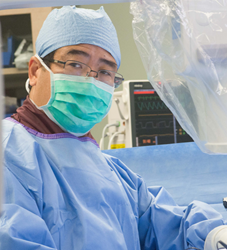 The technology and development behind minimally invasive spine surgery has reduced patient recovery time to a welcomed low.
Edison, New Jersey (PRWEB) April 22, 2014
Surgeon Kaixuan Liu, M.D., PhD has been on the leading edge of the minimally invasive and endoscopic spine surgery world for quite some time, bridging the gap between interventional back pain management and traditional spinal surgery. He has substantial experience in this growing field and provides new options for disc herniations, spinal stenosis, failed neck or back surgeries, spondylolisthesis, and many other diseases and conditions in the cervical, thoracic, and lumbar spine. Dr. Liu's advised treatment methods include less invasiveness, less pain, and have a short downtime compared to their conventional ancestors. President and Founder of Atlantic Spine Center in New Jersey, Dr. Liu has effectively treated patients from all other the United States and he offers his expert advice in the tri state area on a regular basis through live open public seminars. His list of upcoming seminars, including two in May, are updated regularly here.
Because of Dr. Liu's devotion to high-quality patient care and deep involvement in technology advancement he is happy to share his medical experience in spine surgery to the community. Since opening in 2006, Dr. Liu's Atlantic Spine Center locations have rapidly become one of the top centers for endoscopic spinal surgery in the United States. Dr. Liu also founded the Advanced Spine Surgery Center in New Jersey, a world-class spinal surgery center.
After earning his PhD degree in Molecular Medicine from Auburn University in 1998, Dr. Liu developed a strong interest in pain medicine. He hence received a year of clinical training in surgery and three years of training in Anesthesia at Columbia University College of Physicians and Surgeons from 1997 to 2001. After his fellowship training in Minimally Invasive Spine Surgery in 2005-2006 at the Advanced Orthopedics of South Florida, Dr. Liu founded Atlantic Spine Center, LLC, in Edison, New Jersey. Dr. Liu continued his studies spiritedly also earning his board certifications in American Board of Pain Medicine and Minimally Invasive Spine Surgery.
As a renowned doctor and physician scientist, Dr. Liu is frequently invited to speak at national and international conferences. In 1990, the International Union Against Cancer, headquartered in Switzerland, bestowed an award to Dr. Liu in recognizing his outstanding medical research. He also serves as an international surgeon for the Spinal Foundations in England and as a surgical advisor in China, consulting and assisting with the department of minimally invasive spine surgery there. More locally, Dr. Liu is a key speaker at least once a month in the New Jersey area focusing his discussion and sharing his passion on the advancements of minimally invasive spine surgery. He and his team take time before and after each lecture to answer questions and further discuss conditions and treatments with the attendees.
Dr. Liu is currently a member of the International Society for Advancement of Spine Surgery, International Intradiscal Therapy Society (IITS), American Society of Interventional Pain Physicians (ASIPP), American Academy of Pain Medicine (AAPM), American Society of Anesthesiologists (ASA), and Spinal Foundations in England.
Honesty and integrity are the essential values of Dr. Liu and his practice. Along with his experience and concern for helping others he is renewing hope for those with spine pain every day with his groundbreaking contributions to the realm of minimally invasive spine surgery.