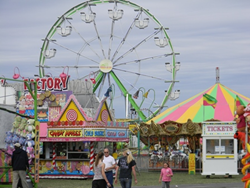 "Cowboy Boots & Hometown Roots", the perfect theme for our hometown fair! A place of fun family entertainment, memories old and new, and scrumptious food! Did I mention the Spring Festival Deep Pit Barbeque, it can't be beat!" says Stephanie Eatmon.
Chowchilla, CA (PRWEB) April 23, 2014
The Chowchilla Junior Fair was incorporated in 1946 as the Madera County Livestock Association. The annual fair is five days. The Fair always lands on Armed Forces Day, usually the third week of May. The Fair is also famous for the Spring Festival deep-pit BBQ put on by 200 volunteers. Nearly 8,000 people are fed over 10,000 pounds of beef in less than three hours.
Meghan Linsey, who has recently toured with Reba and Brad Paisley, will be hitting the Main Stage at the Chowchilla Fair on Saturday, May 17th along with guitarist Tyler Cain who is one of Nashville's brightest young producers, as well as being an accomplished songwriter and lead guitarist for Big & Rich. Also appearing on the Main Stage this year will be country rock band Southern Bend, Aaron Avila and Second Wind playing a variety of music from Country to 80's rock, and Santana tribute band, Caravanserai. Other entertainment will include Vendetta Pro Wrestling featuring former WWE Superstar Chavo Guerrero Jr. and WWE Superstar Sinn Bodhi.
Kids Celebration; an amazing, fantastic, family experience like no other family show will be appearing daily on the Main Stage. This highly interactive game show is skillfully produced for children and parents to enjoy together. Other daily grounds entertainment include hypnotist Michael Mezmer, Magician Frank Thurston, Balloon artist Dennis Forel, Fido 500 racing dogs, and Circus Imagination.
Grandstand events for the 2014 Chowchilla Fair will include Bull Riding on Friday, May 16th, Truck and Tractor Pulls on Saturday, May 17th, and Auto Racing on Sunday, May 18th.
The 2014 Chowchilla Fair will begin Thursday, May 15th and run until Sunday, May 18th. The Fair integrates all aspects of the community through all of the mentioned events, bringing together its residents to celebrate its heritage of agriculture and family. The Fair brings thousands of guests to its facilities with over 320 public and private rentals every year.
For more information about the 2014 Chowchilla-Madera County Fair admission prices and specials, visit http://www.chowchillafair.org or call the Fair office at 665-3728.