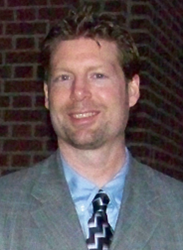 We started in 2004 with a good idea and a commitment to hard work. After 10 years it has been amazing to see how the company has flourished.
Spokane, WA and Seattle, WA (PRWEB) April 18, 2014
Russell Page was hired as President of software company Imprezzio in 2009. In February of this year, he joined Imprezzio co-founders David Talarico and Kelly Birr as an owner and partner in Imprezzio's holding company, DaRK Capital. The holding company currently has six organizations in its portfolio.
Page's achievements as President include:

A successful acquisition track record
Onboarding of top industry talent
Formation of key strategic alliances
Improved customer and employee satisfaction
65.5% Compounded Annual Growth Rate (CAGR)
Says Chairman of the Board Dave Talarico: "Since Russ joined the organization he has proven his skill as an organizer and leader. I believe that Russ understands his success is also due to the team he's assembled. Because of these achievements the Board officially elected him CEO of all companies. As Chairman of the Board, I am honored to have Russ as our official CEO and equally proud of everyone in the organization. I look forward to exciting things coming our way."
Adds Talarico, "Kelly Birr and I started Imprezzio in 2004 with a good idea and a commitment to hard work. After 10 years it has been amazing to see how the company has flourished. None of this would have happened if it weren't for the people we have working for the company. Today, we have six different companies in the United States, Europe, and Canada. We plan to add more products and companies this year."
New CEO Russell Page has almost 20 years' worth of professional experience in technology and business leadership roles including Director of Marketing for Plymouth Rock Assurance, Manager of Marketing Analytics and Information Management for State Farm Insurance, and Vice-President of Progressive Impressions International. He is a summa cum laude graduate of Eureka College.
Talarico and Birr founded Imprezzio in 2004 in Spokane and the company now has offices in Kirkland, Toronto, and Cluj-Napoca, Romania. The flagship company of DaRK Capital, Imprezzio is part of Spokane's small but vibrant software community and produces a Vision Productivity Platform for the insurance industry which can be adapted to any business. Imprezzio also hosts a European software contest for technical students with prizes and internships which they will bring to the US this May.
"Imprezzio is really about workflow productivity and automation," says Page. "We connect central brands or enterprises (for example, large insurance companies) with their field representatives and sales forces. Racing Snail, our latest acquisition, provides agents with the ability to track and increase the income-producing activities of their staff through appropriate, easy-to-use software. Both companies are about providing agents and corporate offices with actionable business intelligence – not disorganized pieces of information.
"Imprezzio Marketing and Bad Kitty Studios between them bring a wealth of online marketing and web design knowledge into our portfolio. Imprezzio Marketing is one of the few North American companies which employs two Google Places Top Contributors. They currently serve over 1,400 clients in the US and Canada with an 80% client retention rate," Page says.
"Then in the parking vertical, OmniPark, our fully-integrated parking management software solution, has over 40 years of combined staff experience. It manages over 5,000 locations and is growing daily. It uses the power of "the cloud" and cutting-edge technology to take tech in new directions and also to apply existing tech in innovative ways. You can use it straight out of the box, or work with us to design a custom solution for your specific business needs," he says.
The common denominator between all the DaRK Capital companies, Page explains, is their approach. "When we acquire other companies, we're looking for the people who are the Subject Matter Experts (SMEs) in their industry. We look for deep domain expertise. We look at the pain points in a specific industry and then apply innovative and flexible software solutions. Imprezzio Global, the last DaRK Capital company, is a big part of this process."
Located in the cyber-city of Cluj-Napoca, Romania, Imprezzio Global is a sister company to Imprezzio Page stresses; they are not outsourcers. The company employs teams of software developers plus technical writers and project managers. It specializes in enterprise cloud-based applications, mobile applications, existing system integration, contact and marketing management and embedded hardware solutions. They currently have clients in the US, the UK, Germany, and Australia.
During the next fiscal year DaRK Capital plans to increase its sales force and strengthen its core market while entering new markets and pursuing growth through acquisition. The hiring forecast is to bring approximately 35 new employees on board in Washington State this year, bringing its total above 200, Page says.
About DaRK Capital
DaRK Capital is a holding company which wholly owns the following subsidiaries: Imprezzio Inc., Imprezzio Global, Imprezzio Marketing, OmniPark, Bad Kitty Studios and Racing Snail. It employs approximately 160 staff in North America and Europe. Flagship company Imprezzio provides software solutions to a variety of industries in which it has deep domain expertise, including insurance, parking and financial/banking.