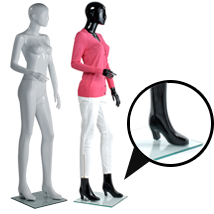 Des Plaines, IL (PRWEB) April 23, 2014
Specialty Store Services recently expanded its already by adding several new designs including a Female Glossy Mannequin with a Face and Heels, a Fiberglass Female with Molded Hair and an updated Sitting Mannequin with a seat.
As a retailer, Specialty Store Services knows the importance of making a store look fresh and exciting. As the summer items arrive the retailers want the ability to show the products as a point of reference and get the customers excited about the new items available. Mannequins are an inexpensive way to grab a customer's attention in a store's window or in the middle of the store.
"We are really excited about new glossy mannequins they are really going to class up any store," says Eric Weinstein, Owner of Specialty Store Services.
Specialty Store Services' expansion of Mannequins include:

Glossy Abstract Female Mannequin with a Face and Heels: Great for displaying dresses and skirts for the summer season.
Fiberglass Female with Molded Hair: A mannequin with molded hair is a convenience to the retailer no need to have to focus on a wig and pay more attention to what the display is wearing.
New Line of Wigs: wigs can work on all style adult mannequins fiberglass and plastic. They are available in a variety of colors and lengths.
Specialty Store Services adds these mannequins to an already extensive line of fiberglass and plastic mannequins and clothing forms. All mannequins are made with a durable construction, providing retailers with years of affordable display units. Though Spring and Summer may come and go, Specialty Store Services' mannequins will display up-to-date trends in fashion season after season, year after year.
Specialty Store Services has mannequins for every aspect of the store, from accessories to outerwear. Visit our website for more information and the full line of mannequins. http://www.specialtystoreservices.com.
About Specialty Store Services
Specialty Store Services, a second-generation family owned business, offers everything necessary to operate a thriving retail store, from logistical solutions and retail supplies to custom and stock fixtures. Over the last 25 years this service-driven company has cultivated relationships with global partners while developing the expertise and knowledge required to provide competitive prices, outstanding customer service and quality products.