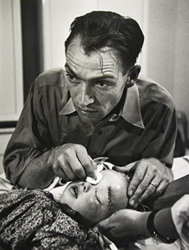 The sale encompasses important historical events from World War II to the present.
New York, NY / Berlin (PRWEB) April 18, 2014
artnet Auctions is pleased to announce Icons of Photojournalism, a groundbreaking auction by renowned photojournalists from the turn of the century to the present. Photojournalism has increasingly captured the attention of the art world, crossing over from news agencies to the walls of galleries and museums. Works in this sale have estimates ranging from US$5,000 to 25,000.
The sale encompasses important historical events from World War II to the present, captured by photographers such as Yvegeni Khaldei's Raising the Soviet Flag over the Reichstag, Berlin (1945), Joe Rosenthal's Raising the Flag on Iwo Jima (1945), Robert Capa's D-Day, Omaha Beach (1944), and W. Eugene Smith's Dying Infant Found by American Soldiers in Saipan, June (1944).
The sale also includes numerous emotionally charged images from some of the most important Vietnam War photographers, such as Larry Burrows' Reaching out, Battle of Hill 484, South Vietnam (1966), Don McCullin's Shell-shocked US Marine, Têt Offensive, Hué, South Vietnam (February 1968), and Catherine Leroy's Corpsman Vernon Wike, Battle for Hill 881, South Vietnam, April–May 1967, along with Steve McCurry's seminal green-eyed Afghan Girl (1984).
Other highlights of the sale include recent war photography from Iraq and Ground Zero, such as Kenneth Jarecke's Iraqi casualty, Highway 8, near An Nasiriyah, "Desert Storm," Iraq, Feb. 28, 1991, which depicts a disturbing portrait of an incinerated Iraqi, as well as Sean Hemmerle's haunting Brooks Brothers' store, Ground Zero, New York City, Sept. 13, 2001. Other notable additions to the sale include James Nachtwey's powerful juxtaposition of a church rooftop crucifix with the two towers collapsing in the background, and Lori Grinker's inspiring shot of the heroic Firemen Raise the Flag at Ground Zero, Two World Financial Center, New York City, September 11, 2001.
Icons of Photojournalism is live on artnet Auctions from April 17 to 29, 2014, and is on view at: http://www.artnet.com/auctions/search/?q=keyword-iop_2014-category-all-artworks-active-auctions-only/?utm_campaign=pressrelease&utm_source=41514icons&utm_medium=link.
Register to bid on artnet Auctions: https://www.artnet.com/auctions/register-to-bid
View all lots: http://www.artnet.com/auctions/all-artworks/
For more information about this sale, please contact artnet Auctions specialist:
Susanna Wenniger
Senior Specialist, Photographs
+1-212-497-9700 ext. 172
swenniger(at)artnet(dot)com
About Us:
artne __title__ ]t is the leading online resource for the international art market. Established in 1989, artnet provides reliable information and market transparency to art collectors. With our comprehensive suite of products, artnet can empower anyone with a passion for art.
With 24/7 worldwide bidding, artnet Auctions & Private Sales is a dynamic marketplace for collecting art. Our online auction platform provides a unique collecting experience with seamless flow between consigners, specialists, and collectors. Our auctions and private sales community influences new collectors and inspires everyone to collect art.