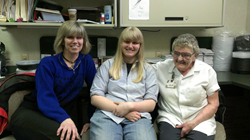 They all get their energy from serving others.
New Oxford, PA (PRWEB) April 18, 2014
When an organization reaches a century or more of existence, it is not rare to hear about employees from two generations in a certain family working side by side. However, having four team members representing three generations of a single family, all displaying heart, strength and a talent for service is not something every mature company can write about.
Meet the Sponseller – Deyarmin clan. 33 years ago, Darlene Sponseller started working at the Brethren Home as a dishwasher. Over the years, her responsibilities evolved and she is today a Cook and Baker Assistant. Darlene must have brought home some positive stories about her work. As a result, her three daughters joined our dining department in quick succession: Carolyn (not a team member at this time), Shari, and Darla. Darla only intended to work at the Brethren Home for a few months, but she fell in love with the ministry and she has been with us for 28 years. Today Darla's title is Dining Services Technical Assistant. She oversees a huge program ranging from dining choices (and diet restrictions) for Health Care and Personal Care residents, the daily "takeout" order from Adult Day Services, and a sizable Meals-on-Wheels component.
Darlene and Darla have seen it all. One stressful day they still remember after many years saw a complete evacuation due to a bomb scare (later unsubstantiated). In comparison, most days in their long careers have been a breeze. As Darlene and Darla explain it, they both get their energy from serving others.
Darla Deyarmin's own daughter, Victorea, has inherited the strong-woman gene that runs from Darlene through Darla. Victorea is still in High School (Honor Roll student at Bermudian Springs), yet she already has a long history at Cross Keys Village: She started volunteering at age 12, which is as young as a volunteer can be. She created a line of paracord bracelets which she sells at bazaars and sales at Cross Keys Village, raising funds for our ministry. And she has been a team member – in Dining Services, of course – since the age of 16. Darla enjoys having her daughter work close to her: "Especially when I have a difficult day, seeing her brightens my day."
One of our administrative goals for 2014 is to conduct a Team Member Satisfaction Survey. We will doubtlessly learn a lot from the survey, but we already know quite a bit more about our work environment after sitting down with Darlene, Darla and Victorea.