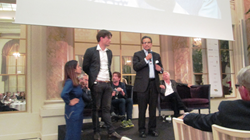 "Grameen Solutions is the strongest partner CodersTrust could get" Morten Lund, Partner and Chairman of the board of CodersTrust
(PRWEB) April 19, 2014
A new era has initiated for Grameen Solutions Ltd. (GSL) with GSL's collaboration with Denmark based Company CodersTrust. The partnership was announced before Sir Richard Branson, the founder of Virgin Group and Morten Lund, Co-investor of Skype, ZYB.
This auspicious event took place in Copenhagen where over 500 Business leaders and entrepreneurs were present. GSL's Managing Director, Aziz Ahmad and CodersTrust' CEO Ferdinand Kjærulff spoke before audiences about the significant of this join initiative.
CodersTrust is supported by Denmark's development cooperation, which aims to fight poverty in developing countries with economic growth. Enabling the private sector to create economic growth is one of the preconditions for effective poverty alleviation.
"We are extremely honored to enter a partnership with Grameen Solutions on the journey of strengthening the Bangladeshi workforce. The partnership means that our goals will be reached in giving young IT coders with limited means better qualifications and access to the job market. With support and local guidance from Grameen Solutions we will select the best and brightest young people in emerging countries, including Bangladesh, finance them with micro-loans while they optimize their skills through online training programs thereby giving them access to more and better paid jobs" said Ferdinand Kjærulff, CEO of CodersTrust.
Partner and chairman of the board Morten Lund said "Grameen Solutions is the strongest partner CodersTrust could get. At the same time, CodersTrust is the most promising project, I have ever been a part of. With support from Grameen Solutions we are developing a system, which activates young brilliant people, make them enter the global market and work locally from where they are - it is strategic upgrading of tomorrow's technological labor force. The Joint Venture between Grameen Solutions and CodersTrust will take microloan into a new era."
"The strategic relationship between CodersTrust and Grameen Solutions is a very natural one, as our DNA uniquely focused on alleviation to poverty and removing barriers for young generation to grow as independent and raise productivity with significant wage increase. Both of our organizations' culture are continuously improving; and I believe we will accelerate to do so with the combination of our strength." said Aziz Ahmad, Managing Director and CEO of Grameen Solutions.
About Grameen Solutions:
Grameen Solutions Limited (GSL) is the flagship technology company of Grameen family of organizations founded in 1999 by Dr. Muhammad Yunus, The founder of Grameen Bank and recipient of 2006 Nobel Peace Prize. "Grameen Solutions" literally means solutions for the villages. GSL offers Software Solutions, Cloud Services Solutions, Mobile Applications, and Analytics Solutions at competitive pricing. Since its inception, GSL has taken several pragmatic steps to attract global technology companies, create technology based solutions and opportunities, and increase overall digital inclusion in the country.
Its goal is to ensure Emerging Technologies gives the ultimate power of Economic development, thus empowerment in the hands of people through emerging Technology, bringing in positive growth to Country's GDP. For more information, please visit http://www.grameensolutions.com
About CodersTrust:
CodersTrust is an investment platform, funding tech-based education in emerging markets. Its business idea is essentially very simple: one of the biggest barriers to technology-based economic development in developing countries is the relatively high cost of - generally poor quality - of appropriate education and particularly access for "base of the pyramid" to education and jobs within the tech-based economy. Help us today - either by providing outsourcing training tasks for our students, or become backer - We provide access to online tech based education, and you can empower young talented individuals, give them the tools to change their lives and prospects for the future. We call it CodersTrust "Genius under development". For more information, please visit http://www.coderstrust.com
Media contact:
Kristian Bog kb(at)coderstrust(dot)com
Papia Chowdhury info(at)grameensolutions(dot)com