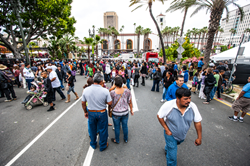 Last year's Boston Marathon bombing got us thinking about how we could help. And Boston is a good example of how useful emergency alerts can be.
(PRWEB) April 19, 2014
Thousands of communities across the United States use emergency alert systems to notify citizens of danger and help them prepare for disasters. These systems alert people of weather emergencies, missing persons, criminal activity, environmental disasters, and other situations that can cause loss of life and property.
But these alert systems are often unable to reach the attendees of large, short-term events, such as marathons, fund raising walks, community festivals and other similar occasions. Emergency alert systems are largely meant for local residents, while many events can draw people from other communities. As a result, if an emergency situation occurs during the event, public safety officials are limited in their ability to effectively communicate with participants and spectators. To deal with these issues, Hyper-Reach, a leading provider of emergency alert systems, in conjunction with the US National Emergency Alert Registry, is announcing a new free service: the Hyper-Reach Event Alert Initiative.
The Event Alert Initiative is designed to address the need of organizers and public safety officials to reach the mass of people gathered at short-term events, while also helping to get the public registered for emergency alerts in their local area. Organizers provide to Hyper-Reach the contact information – either a phone number or email address – that they collect from participants. Hyper-Reach sets up an emergency alert list for the event dates. Then, if an emergency occurs, organizers and public safety officials can use the Hyper-Reach system to send out information to participants in seconds.
Uses of the Hyper-Reach Event Initiative can include: severe weather warnings, traffic problems that will interfere with attendees, criminal activity, such as theft or vandalism that's affecting attendees, and other information that can help with public safety during the event. As a bonus, registrant information will be automatically transferred to the emergency alert service for that person's local area, using the services of the US National Emergency Alert Registry.
"Last year's Boston Marathon bombing got us thinking hard about how we could help," said Sam Asher, president of Hyper-Reach. "Thousands of people attend, but less than a quarter of the participants are local residents. While the Boston Marathon is an extreme case, it's not unusual for much smaller events to draw lots of people who are not local. And Boston is a great example of how useful emergency alerts can be."
Organizers who want to take advantage of the Event Alert Initiative can get more information by clicking on this link, which will take them to the program guide. The program is available to any one-day not-for-profit event expected to attract attendees from outside the local community.
The Hyper-Reach emergency alert system provides rapid notification of urgent situations using a mix of telephone calls, text and email messages, Twitter messages and even TTY/TDD service for the hearing impaired. Hyper-Reach also provides public safety agencies with access to the Wireless Emergency Alert system developed by FEMA, enabling broadcast text messages to most newer mobile phones. A smartphone app is also available for delivering and organizing messages to Apple and Android phones.
The US National Emergency Alert Registry (USNEAR) is a national program to help US residents sign up for their local emergency alert system. USNEAR provides a single, national registration page that anyone in the US can use and have their information transferred to the emergency alert system servicing their community.
About Hyper-Reach
Hyper-Reach (http://www.hyper-reach.com) is a mass notification system with over 12 years of experience in emergency messaging. Hyper-Reach sends messages via automated telephone calls, text messaging (SMS), email, and social media, such as Twitter. Other uses of Hyper-Reach include Amber alerts, toxic chemical warnings, and armed shooter alerts. In addition to 911 centers, Hyper-Reach is used by law enforcement, educational institutions, and corporations. For more information about Hyper-Reach, go to http://www.hyper-reach.com or call 855-266-8439 (855 2-Notify).