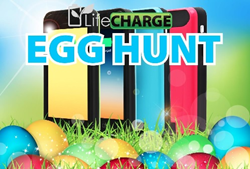 Dallas, TX (PRWEB) April 18, 2014
Fans of LifeCHARGE's Facebook page (http://www.facebook.com/mylifecharge) may find a little extra surprise in their Easter basket this Sunday morning. The smartphone battery and accessories manufacturer has just announced a special Easter egg hunt contest. The prize for commenting and sharing the location of one's local Easter egg hunt is one of three iPhone 4/4S battery cases.
"We've been hosting regular contests on our Facebook page for a while now," explains LifeCHARGE's spokesperson Palki Kochar, "but we wanted to do something special for Easter. Everyone loves an Easter egg hunt, so we've incorporated that holiday hunting into our latest giveaway."
Entrants must be a fan of the LifeCHARGE Facebook page to take part in the contest. The contest rules stipulate that entrants comment with the name of the city or town in which they are going on an Easter egg hunt as well as with the model of the iPhone they own. They must then share the contest post on their Facebook timeline and that's it. They will automatically be registered to win one of three iPhone 4/4S battery cases.
For more information on how take part in the Easter Egg Hunt and other LifeCHARGE Facebook contests, contact LifeCHARGE's Palki Kochar. To become a fan of LifeCHARGE on Facebook and to enter the contest, visit http://www.facebook.com/mylifecharge.
Contact Information:
13650, TI Blvd., Suite #309
Dallas, TX 75243
(877)676-0877