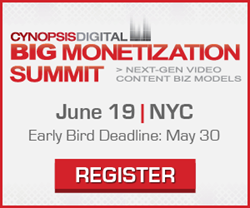 "As the digital arena continues to shift and evolve, we think it's more important than ever to gather smart minds in the same room to share perceptions, challenges, and solutions to making digital a viable marketplace as quickly as possible."
New York, NY (PRWEB) April 18, 2014
Cynopsis Digital, the premier daily publication for digital decision makers, will hold its second annual Big Monetization Summit - Next Gen Video Content Biz Models, on June 19 in New York City. This is the industry's gateway to the must-have insights on the most current business models for the digital world.
Speakers from Collective Digital Studio, Comcast/Xfinity, OMD, FreeWheel, Google, IAB, Ipsos MediaCT, Spark, Time, Inc, TruthCo., xAd, Inc., YuMe, and other leading firms will reveal best ways to create, distribute, measure and monetize this surge of digital production
"As the digital arena continues to shift and evolve, we think it's more important than ever to gather smart minds in the same room to share perceptions, challenges, and solutions to making digital a viable marketplace as quickly as possible" said Roberta Caploe, Editorial Director for Cynopsis Media.
The Summit, sponsored by FreeWheel, will be held at 10 on the Park at the Time Warner Center in Manhattan and include an informal lunch and networking breaks. For details, please visit http://www.cyndigitalmonetization.com/
For questions about registration, contact Pete Romas at pete(at)cynopsis(dot)com or visit the summit webpage. For sponsorship information, contact Vice President of Sales and Marketing Mike Farina at mike(at)cynopsis(dot)com.
About Cynopsis Media
Cynopsis Media is a division of Access Intelligence LLC. The Cynopsis Media family of products includes Cynopsis, Cynopsis Digital and Cynopsis Sports daily e-publications, weekly Cynopsis Kids and Cynopsis Classified Advantage e-publications, Special eReports, Event/Summits and a strong database of Classifieds and more. Visit the new & improved cynopsis.com.
###