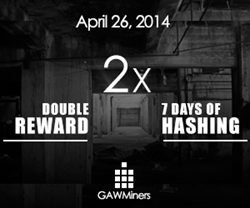 We're running this promotion because we have the most loyal customers who've supported us every step of the way.
East Longmeadow, MA (PRWEB) April 18, 2014
GAWMiners announced Thursday that the Double Your Hash promotion they are running for their GAW Founders Club members will be available to all customers who have purchased from GAWMiners.com on or before April 25, 2014. Customers can already register for the promotion on the GAWMiners website at: http://www.gawminers.com/promotions/double-your-hash/.
The Double Your Hash promotion is meant to help miners who took a hit during the cryptocurrency market dip over the last few weeks when Bitcoin went under $400, according to the International Business Times, April 10, 2014. The payout for the promotion will be based on the Litecoin mining difficulty and market price during the 7 days of the promotion. Customers will be paid the equivalent of what their purchased hashing power earns them.
"We're running this promotion because we have the most loyal customers who've supported us every step of the way." said Josh Garza, CEO. "We know how frustrating it is to invest into something and almost immediately take a giant hit. It's not a feeling we want to leave our customers with and by doing this, I think it strengthens the crypto community as a whole. The more people who trust and believe in it, the stronger it will be and the faster we can all grow."
The following are the official rules of the Double Your Hash promotion:

Only customers of GAWMiners.com are eligible
Customers must register on the website to enter
Registration closes at 11:59pm 4/25/2014
A customer's total hashing power is the sum of all purchased miners before 4/26/14
Any fraudulent transactions and/or activity will result in immediate disqualification
Customers must have a Bitcoin wallet address to receive promotional payout
GAWMiners provides Bitcoin and Scrypt Mining Hardware at low prices with free same-day shipping. As an additional option, they also offer free hosting & electricity at their server locations. They're customer services are unbeatable in the crypto mining industry with live 24/7 phone and tech support. For more information, resources and support for crypto mining visit http://www.GAWMiners.com.