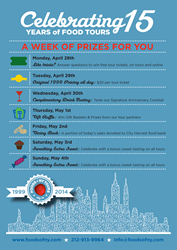 Since 1999, we've led food and culture walking tours through New York City's most delicious and historic neighborhoods. --Todd Lefkovic, Owner and Founder of Foods of NY Tours
New York, NY (PRWEB) April 22, 2014
Foods of NY Tours, New York City's original food and culture walking tour, celebrates its 15th anniversary on April 29th. Since 1999, the company has toured over 250,000 people and spent over 3 million dollars on food, supporting small, local, New York neighborhood businesses in the process. They employ 16 colorful tour guides (bakers, comedians, chocolate-aficionados), all with interesting stories of their own.
To celebrate, the company is offering original 1999 prices ($20 per ticket) on Tuesday, April 29th (the anniversary) for the Original Greenwich Village Tour and running special promotions, including tastings of the signature Foods of NY cocktail and raffle prizes, all week. The entire staff of tour guides volunteered with a local soup kitchen as well. Please see the photo for the full rundown of events for the Anniversary Week.
Hailing from Cranford, NJ, the owner Todd Lefkovic created the first New York City Food Tour in 1999 after too many years of planning NYC dates for his New Jersey friends. They didn't want him on their dates, but they did want his itinerary and his recommendations for the best places to go for drinks, dinner, dessert, live music, and off-Broadway theatre!
"Since 1999, we've led food and culture walking tours through New York City's most delicious and historic neighborhoods," says owner and founder Todd Lefkovic. "A food and culture tour is a great way to get outside, learn about New York City, and taste delicious local bites from off the beaten path cafes."
Whether tasting cheese from Murray's Cheese, sampling soppressata from 114-year-old Faicco's in Greenwich Village, or learning about the Oreo's invention in Chelsea Market, a good time is guaranteed.
Please see the attached document for a full description of each tour.
About Foods of NY Tours
Foods of NY Tours is New York City's original food and culture walking tour. Founded in 1999, the company has introduced over 250,000 people to the tastes and culture of New York City through its five neighborhood food tours.
Public and private tours are offered seven days a week in five neighborhoods: Greenwich Village, Chelsea Market/ Meatpacking District, Nolita, Central Village, and Chinatown.
Foods of NY Tours provides a non-touristy experience, so guests feel like native New Yorkers. Each tour includes 6-8 food tastings from specialty food shops, ethnic eateries, and local restaurants, as well as an off-the-beaten-path glimpse of life in New York City—the history, culture, architecture, and entertainment offerings that make each neighborhood unique. Discover hidden gardens, underground speakeasies, sites filmed in The Godfather, and of course, local foodie eats.
Price: $52
Tours: Public and private tours offered 7 days a week, year-round
Reservations: Required
Website: http://www.foodsofny.com