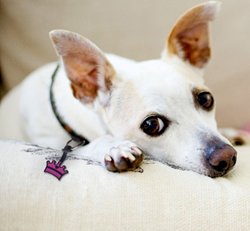 A Twigo Pet ID Tag, is one of the simplest tags on the market to provide every pet at the time of adoption or after a veterinarian visit.
Hoboken, NJ (PRWEB) April 18, 2014
Twigo Pet ID Tag is celebrating National Pet ID Week, April 20-26th, by offering our Wholesale Customers a BUY 1 GIVE 1 Promotion. For every tag purchased, the equivalent number of tags will be sent to their Local Animal Shelter of choice.
National Pet ID Week was started to help improve the return rate of lost pets and reduce the number of pets taken to shelters.
An ASPCA research on Tag Retention in 2010-2011 concluded that 80% of pet owners said that a pet ID tag was "extremely important". Yet only 33% of surveyed pet owners reported that their current pet wears an ID tag all the time. ASPCA provided ID tags for vets and shelters for the pet's owner. Follow up concluded that 73% these pets continue to wear the ID tag and 89% with the newly adopted pets.
A Twigo Pet ID Tag, is one of the simplest tags on the market to provide every pet at the time of adoption or after a veterinarian visit. Twigo tags require no engraving and are instantly personalize-able with a ballpoint pen – simply write, boil and wear. The tags self-attach and are completely silent, ideal for those who dislike the jingling noise and remove their pet's tags while inside the house.
The best prevention is to use more than one identifier from the start. Three identifiers are best: a personalized ID tag, a local registration tag and a microchip.
While microchips are permanent and reliable, they are invisible and can only be read by a Vet or Rescue group with a reading scanner. Visible pet ID tags are the fastest method of getting lost pets safely reunited with their families.
ID tags should have the owner's name or pet's name and phone number.

Keep a pet identification tag on your pet at all times
Make sure owner contact information is up to date
Have a cell phone listed as a primary contact number
Any serious health issue or medications, if possible
Twigo Pet ID tags are available in 4 fun styles and 3 colors each.
SIMPLE + DURABLE: The easiest, quietest and friskiest
SILENT: No jangling, jingling or clanking.
EASY TO PERSONALIZE: Simply write, boil and wear.
EASY TO ATTACH: Slip loop attachment to any collar.
[Paw-Proofed] Lightweight and EASY to clean!
Twigo LLC is on a mission to help ensure all pets wear an ID tag all the time. Pet identification is the BEST PREVENTION. ID's dramatically increases the security of your pet family member.
Please visit Twigo Pet ID Tag's website (http://www.twigotags.com), email us at twigo(at)twigotags(dot)com. Retailers can purchase Twigo Tags by emailing us or with http://www.wholesalepet.com.
For more information contact Janine Berger, owner Twigo LLC, please call directly at: Twigo(at)TwigoTags(dot)com, 888-276-1231