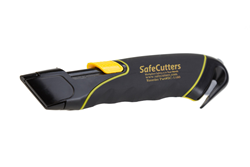 Two Tools in One!!
Muskegon, MI (PRWEB) April 22, 2014
Safecutters, Inc., a leading distributor of box cutters and safety knives has launched its newest product, the Nummo. The Nummo brings together an auto-retract knife with a concealed rotary blade knife to produce one versatile and safe cutting tool.
The Nummo, Safecutters newest product, combines two knives into one tool. One end features a blade that automatically retracts the instant it loses contact with a cutting surface. The opposite end features the only concealed-blade rotary cutter designed to cut shrink wrap, plastic bands and thin cardboard. Made of a metal housing with a cushion, anti-slip grip, the Nummo is constructed for durability and comfort.
"At Safecutters, we are constantly researching the newest products and bringing the most advanced cutting tools to the market," said Matt Fri, CEO and President of Safecutters, Inc. "We listen to the needs of our customers and pride ourselves on finding the best solutions to their problems. The Nummo is the culmination of years of feedback and research".
Safecutters Inc., a family-owned and operated business, began its operation in 2005 with a passion for promoting safety and efficiency in the workplace. Safecutters, Inc. was the first distributor of the Klever Kutter, a hugely popular box cutter used in industrial and office settings, and has consistently expanded its niche in the safety market to become an authority in the field of safe cutting tools.
For more information about Safecutters products or to place an order visit http://www.safecutters.com. If you have question about the Nummo or any other Safecutters product, contact Mandy Olsen at 866-865-7171.