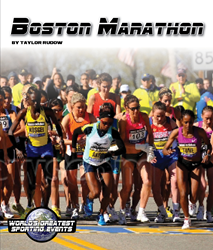 La Jolla, CA (PRWEB) April 18, 2014
Scobre Educational announced today plans to publish a new four book series the 'World's Greatest Sporting Events.' Each book will transport young adult readers to a sporting event that has resonated in history.
The first in the series due out this fall is about the Boston Marathon. The annual event, that attracts the most prolific runners from over 90 countries, is now legendary in its host city as not only a marathon, but as a dedication to the victims of the marathon bombings during the 2013 race. The Patriot's Day tradition, in a city that relishes its traditions, will return on April 18th 2014, bigger and better than ever. This book will offer readers a fresh perspective on the origin and history of the event as well as an examination of last year's tragedy and how that may shape the race in the future.
The Boston Marathon is the first of the four-book nonfiction series created specifically for teens. It's exciting, informative and relevant. It will also be available as Hear & Read with GoReader™.
Publisher Scott Blumenthal said, "We felt like this was the perfect opener for this emerging series.
Our ultimate objective is to empower our readers, by giving them high-interest, low-level material about the most high-profile sporting events, in a compelling engaging format."
Other related non-fiction series for empowering young adults include: Yes She Did!, a series about Women's success stories; Urban Entrepreneur, from inner-city to the inner-circle; and MVP's On The Hardwood series, an NBA licensed series highlighting professional basketball teams around the country.
Scobre Educational titles are distributed in the US by Lerner Publishing Services. Scobre is a wholly owned subsidiary of Book Buddy Digital Media, Inc. All Scobre titles are available as Book Buddy Sets featuring the GoReader™ for Hear and Read Intervention. Scobre Educational has been an innovator since its creation in 2001, and is also known for its very popular leveled-reading series, updated non-fiction series and its fiction works, specifically written to engage striving readers and reluctant readers. The company is a wholly owned subsidiary of Book Buddy Digital Media, Inc.; with principal offices in La Jolla and Silicon Valley in California, Seattle, Washington, Mexico and Hong Kong; and is an affiliate of STI Certified Products, Inc.