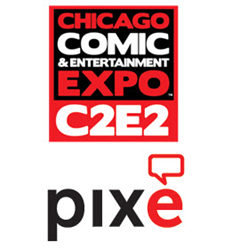 C2E2 Pixe Social Photo Booth will engage event attendees by celebrating their love for fantastic cosplay and great comic art
Columbia, MD (PRWEB) April 21, 2014
Pixe, LLC, the leading mobile-based social photo booth solution provider, will partner with ReedPop, to deliver a one-of-a-kind social experience for attendees at the fifth annual Chicago Comic & Entertainment Expo (C2E2). ReedPop, the world's largest producer of pop culture events, will host C2E2's largest event since its launch in 2010 from 25-27 April 2014 in Chicago, IL.
Located in booth 4000, the C2E2 Pixe Social Photo Booth will engage event attendees by celebrating their love for fantastic cosplay and great comic art, enabling them to share memorable photos live from the event on the C2E2 Photo Booth Facebook Page. The photos will stream in a real-time rotating slideshow on a large HD digital screen on the show floor.
In an exciting, interactive experience for fans, Pixe Social is hosting a Facebook contest for the attendee who receives the most likes on their photo between April 25 - May 5, 2014. We invite C2E2 attendees and fans to like, share, and retweet their photos with friends and family for a chance to win an iPad Mini!
Launched in April 2013, Pixe Social first partnered with ReedPop at New York Comic Con 2013. Pixe Social captured over 4000 exciting photos with fans, celebrities, and many comic book heroes. The photos reached hundreds of thousands of fans on-site during the show and online through the New York Comic Con Photo Booth Facebook Page. Pixe also partnered with MCM Comic Con at eight different events across the UK, including London and Ireland.
About Pixe LLC
Pixe LLC is a Maryland-based start-up providing cutting-edge social marketing solution that is on a mission to take the challenge out of social media marketing by converting audiences into brand ambassadors. The company's flagship solution - Pixe Social - enables businesses to tap into their current customer base effortlessly and exponentially extend the viral reach of their brands with a fun and engaging photo booth solution. For more information, visit http://www.pixesocial.com.
About C2E2
The Chicago Comic & Entertainment Expo - also known as C2E2 - is a convention spanning the latest and greatest from the worlds of comics, movies, television, toys, anime, manga and video games. Bringing the best of popular culture to Downtown Chicago, C2E2's show floor is packed with hundreds of exhibitors, panels and autograph sessions giving fans a chance to interact with their favorite creators. For more information, visit http://www.c2e2.com.