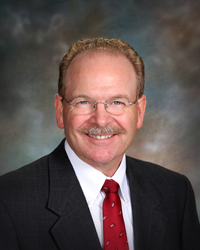 If your dream is to improve the lives of your patients, we all need to step up and make it happen.
Des Moines, IA (PRWEB) April 17, 2014
OutcomesMTM™ Board member and new President of APhA, Matt Osterhaus, BSPharm, FASCP, FAPhA, both found and offered inspiration at APhA2014. Osterhaus said all the positive energy coming out of pharmacy keeps his battery charged. He celebrated the beginning of his term at a dinner with close friends, colleagues and mentors.
"It was extremely rewarding and humbling that people came together to celebrate," Osterhaus said. "There was a strong Iowa presence with my Outcomes family, Pharmacist Mutual family, IPA family and my own family—33 Osterhauses were in attendance!"
In his address during the general session, Osterhaus talked about advancing pharmacy as a united front. Pharmacy has many different practitioners in a variety of areas who want to positively impact patients by increasing access to pharmacists' services. One way to increase that access is to earn provider status. Achieving provider status on a national level is a multi-year effort, so Osterhaus plans to focus on getting people on the same page. With a unified message, legislators and decision makers can better understand how pharmacists can help solve problems in healthcare and positively impact patient outcomes.
"Pharmacists are a big part of the solution," Osterhaus said. "If we pull together and try to advance the profession as one—that's how we'll really be successful."
Another passion for Osterhaus is developing future leaders of the pharmacy profession, so he wants to take APhA's leadership development efforts to the next level. To propel the pharmacy profession forward, young pharmacists must take leadership roles in their own practice environments as well as professional organizations. He wants pharmacists to have the opportunity to practice at the top of their licenses, so they can show the great impact pharmacy can have on healthcare.
To illustrate the importance of motivation in the movement to advance pharmacy, Osterhaus referenced Simon Sinek's Ted Talk, "How Great Leaders Inspire Action." In his talk, Sinek uses Martin Luther King to illustrate his point that people who start with "why" rather than "how" or "what" are able to inspire those around them. As Sinek points out, Martin Luther King didn't convince people to start a movement with an "I have a plan" speech; he gave the "I have a dream" speech.
"The passion and desire when it comes from your heart really moves mountains. That's what we need from pharmacists," Osterhaus said. "If your dream is to improve the lives of your patients, we all need to step up and make it happen."
About Matt Osterhaus
Matthew Osterhaus, FAPhA, FASCP is a community and consultant pharmacist who co-owns and operates Osterhaus Pharmacy, an innovative, care-based practice including MTM services, Long Term Care, Hospice, specialty compounding and home medical equipment located in Maquoketa, Iowa. He is a graduate of The University of Iowa College of Pharmacy. He has held leadership positions in a variety of state and national pharmacy organizations and is currently the President of the American Pharmacists Association. He also serves on the Board of Directors of OutcomesMTM and Pharmacists Mutual Insurance Company.
About OutcomesMTM
OutcomesMTM is the national leader in the design, delivery and administration of Medication Therapy Management programs. The company's service line benefits healthcare purchasers by delivering a cost-effective approach to advancing patient care and controlling utilization through the provision of patient-friendly Personal Pharmacist services, which advance the Face-to-Face Difference®.