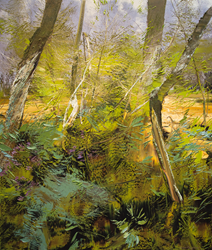 It's not about recording what something looks like but what it feels like.
Santa Fe, NM (PRWEB) May 14, 2014
Lynn Boggess presents an untouched vision of nature that transports the viewer to the reflective and pure environment in which his landscapes are created. By means of plein-air techniques and the use of cement trowels as brushes, an innovative approach to oil paint is realized, resulting in works that are simultaneously dynamic and soothing. These landscapes overwhelm the senses with lush and vivid scenes while also allowing room for meditation on the deeper relations between human life and the natural world.
Primarily working in oil, Boggess' draws the viewer into the deeply receding spaces of his images. The pictures, devoid of human or animal habitation, focus on Nature, free of the influence of human activity. Boggess compels the viewer to contemplate each scene in turn, and finally the cycle of scenes: the lapse of hours; the alternating character of the rocks, of the trees and of the land; the turn of season. The paintings themselves become the spaces they portray.
Boggess' paintings reflect the entire tradition of landscape painting. Indeed, the viewers will find suggestions of the Romantics, the Luminists, the Impressionists, and the Expressionists. Yet, the artist does not set out to make his works conform to a preconceived style; rather, he melds the tradition and his own experience into a way of seeing and a style in landscape painting which is uniquely his own.
In Boggess' stylistically heavy application of paint and his roughly-textured surfaces, he is closest to the German painter Anselm Kiefer, a post-World War II Expressionist, whose use of landscape reverberates with the devastation of the Nazis. His landscapes are wounded, bleeding, unquiet, all seemingly opposite qualities to the work of Lynn Boggess, yet the two share many attributes, especially their aggressive, unflinching approach to subject.
The landscapes of Lynn Boggess give us a year-round walk in the woods. They provide us with a series of meditations on beauty; they give us an opportunity to consider the importance of Nature to our own experience. They also contain, in small subtle ways, much of the history of landscape painting. Because Boggess has chosen to paint Nature directly, and because he sees it as beautiful and endangered, he draws us into his fierce political vision. View a film of Lynn Boggess discussing his work.
Excerpts taken from Marian J. Hollinger, Curator
About EVOKE Contemporary
EVOKE Contemporary is committed to promoting compelling and provocative contemporary artists of international acclaim. EVOKE Contemporary participates in Last Friday Openings + Artwalks in the Railyard Arts District each month year round.
EVOKE Contemporary is located at 550 S. Guadalupe St., Santa Fe, New Mexico 87501.
Telephone 505.995.9902. For more information, visit the EVOKE Contemporary website at http://www.evokecontemporary.com.